Queen's College student Shemar Britton yesterday smashed his way to the boy's U-18 title as the fourth annual Digicel-sponsored, Guyana Table Tennis Association (GTTA) 2013 schools tournament concluded at the Cliff Anderson Sports Hall.
The competition began last Friday and featured players from across the length and breadth of Guyana who displayed gutsy and classy performances as they vied for supremacy against their counterparts.
Britton defeated Elishaba Johnson 4-2 in their best out of seven encounter winning 8-11, 13-11, 7-11, 11-6 and 12-14 to claim the U18 crown.
Mae's Kyle Edghill overcame Bartica's Sheldon Atherly in the final of the boy's U15 category winning 11-7, 11-8, 11-8.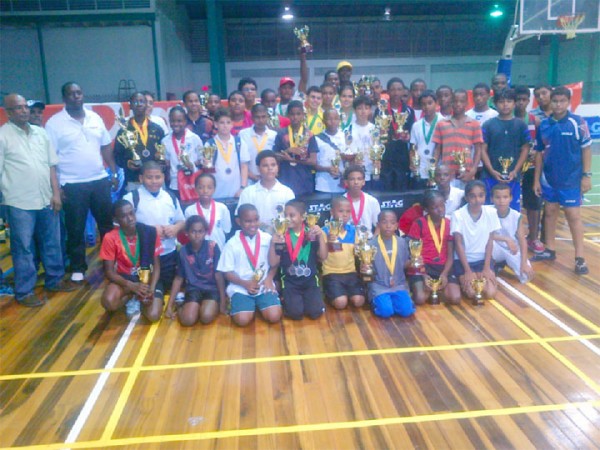 The U13 boys final was won by Jamaal Butts who defeated Khalil Ninvalle, 9-11, 8-11, 13-11, 11-7, 11-9 in the semi-finals before going on to win the category  by beating Mae's Jeremy Singh, whom he defeated 11-1, 11-8, 8-11, 11-9.
National Player Tyriq Saunders beat another fellow youth player in Terrence Rausch in their best out of seven boys U11 match with scores being 9-11, 11-6, 11-5, 11-5. Gavin Mangroo won the novices title after routing Jonathan Findlay 8-11, 12-14, 11-8, 11-8, 11-9. He earlier defeated Business School's Brandon Feidtkou 10-12, 11-8, 13-11, 11-8.
On Saturday Bartica Secondary defeated Mae's A 3-2 win the U15 title with the Business School third and West Demerara fourth.
St. Stanislaus won the boys U18 defeating Queen's College A 3-2 in the final.
In the semi-finals St. Stanislaus beat Bishops' High School 3-1  while nd Queen's College A stopped Mae's A 3-0.
Britton was adjudged the most outstanding male player while Marian Academy's Davonna Best copped the most outstanding female award. At the post tournament presentation, GTTA President Godfrey Munroe, expressed gratitude towards all the players, schools and parents who came out to support.
He further encouraged the players to join up with clubs and to continue playing while lauding all the participants as "winners".
Digicel's  Events and Sponsor Manager Gavin Hope, congratulated the GTTA on what he termed as the tournament's "largest turnout" since its launching four years ago.
Hope also commended the parents who came out over the past few days in support for their kids and all the other kids who participated.
He concluded by saying that he was happy to see that the discipline had brought out a large number of "babies" which the sport needs.
Around the Web