Yesterday, the national cyclist beat the heat and the cream of Guyana's wheelsmen to cart off the spoils of the inaugural United Bike Shop sponsored 70-mile road race after a thrilling four-man sprint finish.
Greaves' win, which came in two hours, 44 minutes and 55 seconds, was his 22nd (local and overseas) of his phenomenal season.
The Roraima Bikers Club (RBC) product led last year's senior road race champions, Raynauth Jeffrey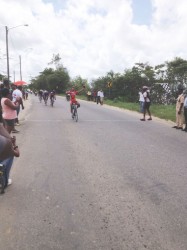 (Team Coco) and Orville Hinds (Team United) on to the podium while Geron Williams (Team Continental), Akeem Wilkinson (Team Alanis) and Warren '40' McKay (RBC) filled out the top paid six positions.
Besides carting off the first prize of a cycle frame worth $US1200 ($GY240,000), the 24-year-old, who is currently carrying home trophies faster than he can house them, also sped off with three sprint prizes.
"I felt like a beast on the bike today," said Greaves who placed second in Sunday's 16th annual Troy Humphrey Memorial feature event.
"I had no complaints mechanical wise, I just stayed focussed and caught the main breaks and that was it. I know my sprinting ability and I'm thankful for the win."
The event, which pedaled off at Homestretch Avenue, proceeded to Dora on the Linden Highway and ended at the United Bike Shop in Craig, started at a fast clip with nine riders breaking away from the rest of the 54 starters from the Providence Stadium.
Those riders, which included Rastaff O'Selmo, Greaves, Williams, Delroy Hinds, Michael Anthony, Paul DeNobrega, Walter Grant-Stuart, Hamza Eastman and Wilkinson rode in tandem but were wheeled in at Dora by a wave of riders in the peloton.
At this point, Greaves and Wilkinson orchestrated a two-man breakaway but Hinds, Jeffrey and Williams connected at Splashmin's and the five cyclists rode as a unit until Jeffrey unsuccessfully staged a solo attack about a mile from the finish.
The tireless Jeffrey was promptly pursued and caught by Greaves, Williams and Hinds as Wilkinson failed to change gears.
With 200m to go the four riders were still together but 50m later Greaves had enough and used his superior sprinting ability to power across the finish line.
Other category winners yesterday were Junior Niles (veterans), Ozia McAulay (Mountain Bike), Naomi Singh (Female) and Michael Anthony (Junior) who was awarded a pair of wheels worth $US450 ($GY90,000)
There were also BMX races which were won by Amo Jones (12-13 years), Jaleel Jackson (13-15 years) and Jamal John (Open).
Former cycling standout and Managing Director of the United Bike Shop, Horace Burrowes congratulated all the cyclists for competing in the successful event and mentioned that next year's edition would be even more lucrative.
Full Results 
Seniors 
Alanzo Greaves 2:44:55
Raynauth Jeffrey
Orville Hinds
Geron Williams
Akeem Wilkinson
Warren '40' McKay
Juniors 
Michael Anthony
Shaquel Agard
Hamza Eastman
Veterans 
Junior Niles
Ian Jackson
Talim Shaw
Mountain Bikes
Ozia McAulay
Stepano Husbands
Julio Melville
Females
Naomi Singh
Toshwanna Doris
Around the Web