Minister of Culture, Youth and Sports Dr. Frank Anthony is scheduled to deliver the feature address at the opening ceremony of the highly anticipated Guyana Softball Cup 111 which is scheduled to bowl off tomorrow at the legendary Georgetown Cricket Club, Bourda Ground.
The opening ceremony is expected to commence at 17:30hrs at the members pavilion and will feature addresses by the teams, captains,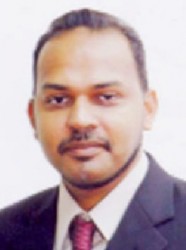 managers or  representatives  who are asked to be present for a final briefing and to secure the tournament fixtures.
All 26 teams are asked to be at Bourda tomorrow morning at 8:00hrs and are asked to be fully uniformed for a photo shoot which will be followed by the departure of the teams to their respective grounds for a prompt start of the tournament at 9:15hrs.
Each team will play three preliminary matches, two tomorrow and one on Saturday morning following which the four semi-finalists will be decided for each categories. The semi-finals will be played on Saturday after lunch.
Grounds that will be used are Police Sports Club Ground, DCC Ground, Bourda, Saints Stanislaus Ground, Ministry of Education Ground (formerly Softball Ground), MYO Ground and YMCA Ground, with the finals being played on November 10 at Bourda.
There will be three female 10/10 exhibition games between Trophy Stall Angels, 4R Lioness, Karibee Girls and Mike's Wellwoman.
Fixtures:-
10:00hrs-First female semi -finals
11:15hrs-Second female semi-finals.
12:30hrs-Guyana Softball Cup 111 Masters 20/20 Finals
16:00hrs-Female finals.
17:30pm-Under Lights, Guyana Softball Cup 111 Open 20/20 Finals.
20:45 pm-Presentations Ceremony.
21:20pm-Conclusion of  "Guyana Softball Cup 111"
Guyana Softball Cup Open 20/20
Zone A:  South Florida Softball Cricket League, Regal, Wolf Warriors, Smith X1
Zone B:  New York Softball Cricket League All Stars, Cotton Field Wild Oats, Corriverton, Farm X1
Zone C:  Ontario Softball Cricket League, Berbice Titans, Karibee Boyz, Trophy Stall.
Guyana Softball Cup 111 Masters 20/20
Zone A: New York Better Hope, Brooklyn Legends, Savage, Floodlights.
Zone B: SCI Miami, New York President X1, Regal Masters, Industry Super Kings.
Zone C: New York Seaview, Ontario Masters Softball International, Wellman X1
Zone D: New York Softball Cricket League Legends, Parika Defenders, Superior Woods Success Masters.
Around the Web