l Association for Women's Football (NAWF) has donated 20 pairs of football cleats to the recently founded Little Diva Flames Football Club on Monday at the Georgetown Football Club (GFC) ground, Bourda.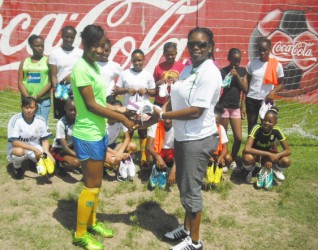 Prior to the club's training session, the cleats, which were handed over by NAWF President Vanessa Dickenson to club representative Aaliyah Stanley, was donated by a sponsor who at this juncture has decided to remain anonymous.
Members of the club that were recipients of the footwear were Mariska Corbin, Shaunna Taylor, Siedha Dummett, Jennel Brown, Atabia James, Precious Johnson, Shania Riley, Tandica La Rose, Althea Holligan, Gabriella English, Dacaycia Norville, Alicia Simpson, Latefha Rogers, Tiffiney Jupiter, Deborah Waldron, Troyan Barton, Janet Chinian, Lashana Young and Princess Gardner.
Around the Web