Ahead of today's action in the 2013 edition of the Guyana Softball Cup 111, Minister of Culture, Youth and Sport Dr Frank Anthony last evening said that he hoped the tournament will be used as a medium of binding people together while promoting healthy living lifestyles.
Held at the pavilion of the former Mecca of cricket in the Caribbean, the Bourda Ground, executives, organisers, sponsors and some of the participating teams along with the minister, were present at the official launch of the competition.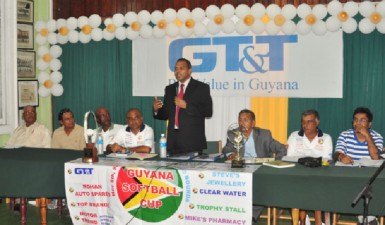 During his speech, Anthony lauded the efforts of the organising party whom he noted his ministry had worked closely with during the initial phases of the tournament. He warmly welcomed the overseas teams who flew in to be a part of the tournament, wishing them the best of luck in their matches.
Anthony said that the support given by the ministry was due to the progress witnessed over the years of the softball committee which has managed to turn a small floodlight competition into an extraordinary tournament played by teams from across the globe.
The minister stated that he hoped this tournament will be fairly and cleanly contested, while stressing on the importance of exercise to general health.
Ramchand Ragbeer, President of the Guyana Floodlights Softball Cricket Association (GFSCA), thanked the Ministry of Sport, the media and other representatives of the tournament and wished all the participating teams the best of luck, while encouraging them to "play in good clean spirits."
The tournament will bowl off at 9.00 am today at the St Stanislaus Ground, Ministry of Education ground, Eve Leary and a few other grounds across the country, with the final being played under floodlights on Sunday at the Bourda ground.
Admission to the preliminary games is free, while admission to the finals costs $500.
Around the Web