The third edition of the annual Georgetown Football Association (GFA)/Banks Beer Cup was officially launched yesterday at the Princess Hotel Boardroom, Providence, East Bank Demerara.
Scheduled to commence on November 23 at the Georgetown Cricket Club (GCC) ground, Bourda, the event will feature a tournament-high 32 teams from six associations competing in a single elimination format at various venues.
Venues that will be utilised over 16 playing dates are the Georgetown Football Club (GFC) ground,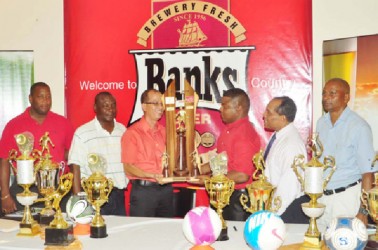 the Mackenzie Sports Club (MSC) ground in Linden, the Den Amstel Community Centre ground, the No.5/Monned-erdust Community ground in Berbice and the aforementioned.
The venue for the grand final on January 1, 2014 will be announced at a later date.
Associations will receive 20% of gate receipts for fixtures hosted in their respective jurisdictions.
The five other participating associations are the Upper Demerara Football Association (UDFA), East Coast Demerara Football Association (ECDFA), Berbice Football Association (BFA), West Demerara Football Association (WDFA) and East Bank Football Association (EBFA).
There will be 17 teams competing from outside of the GFA with each team  allowed a maximum of three local or international guest players.
Teams competing out of the GFA teams are Alpha United, The Guyana Defence Force (GDF), Camptown FC, Beacon FC, the Guyana Police Force (GPF), Fruta Conquerors FC, Black Pearl FC, Flamingo FC, Pele FC, GFC, Northern Rangers FC, BK Western Tigers FC, Houston Stars FC, Riddim Squad FC and Santos FC.
Representing the UDFA are Winners Connection FC, Silver Shattas FC, Net Rockers FC, Topp XX FC, Milerock FC and Botofago FC while the EBFA will be represented by Grove Hi-Tech FC.
Participating from the ECFA are Beterverwagting (BV)/Triumph FC, Mahaica Determinators FC and Buxton United FC whilst the WDFA will led by the trio of Slingerz FC, Den Amstel FC and Seawall FC. Concluding the list of association participants will be the BFA duo of Cougars FC and Monedderlust FC whilst Kwakwani Strikers and an Essequibo select team occupy the final two spots.
Banks Beer Brand Manager Brian Choo-Hen, during the feature address stated:"We are elated to be here with the Banks Beer Cup. Banks is now having a football fever and it's a sign that shows the company's commitment to football and its development," he said.
"We expect all the teams to play fairly, to respect each other and train hard so that the tournament can be successful for the development of football in Guyana," added Choo-Hen.
"We are in Banks country and when in Banks country we only drink Banks beer. Without any fear of repetition, I officially declare the Banks Beer Cup officially open."
Ivan Persaud, Guyana Football Federation (GFF) Vice President of Technical and Tactical Development said:"The GFF is pleased to be a part of a tournament that seems to be lifting the standard of football in Guyana and that is going from strength to strength.
"We at the GFF believe that the more teams we have competing, the larger the talent pool we create to choose from for our national sides. Thanks to Banks DIH for their continued commitment towards the development of football in Guyana and I wish the teams the best of luck," said Persaud.
GFA President Vernon Burnett, during a brief statement said:"We at the GFA are happy to be in partnership once more with Banks DIH to host another tournament. We are happy to extend it to 32 teams as we hope it brings more flavour to the event."
Burnett added:"Once again we are happy to be in partnership with Banks DIH and the other associations in hosting this event," said Burnett.
The tournament winner will receive $4,000,000, a trophy and medals while the runners up will collect $2,500,000, the second place award and medals. The third place side will receive $1,500,000 and a trophy while fourth place finishers will pocket $1,000,000 and a trophy.
Teams that are defeated in the quarter-final round will each receive $250,000 while second and first round eliminated sides will collect $150,000 and $100,000 respectively.
On the individual side, accolades will be awarded for the highest goal scorer, best goalkeeper, most disciplined team and most valuable player (MVP). The most outstanding coach will receive $100,000. Other sponsors of the event include Colours, Star Party Rentals and Super Graphics.
Around the Web