Stephan Gouveia and Clairmont Gibson's lightweight bout delivered a knockout punch to patrons on the first night of the National Open Championships last night at the National Gymnasium.
The southpaw Gouveia jabbed and power punched his way to a unanimous victory but Gibson held his own throughout the scintillating three-round contest.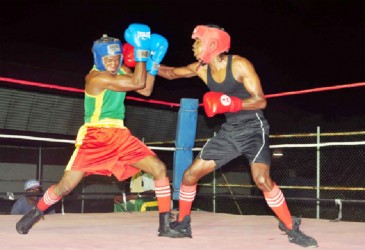 A vicious combination in the second round by Gouveia opened up a cut under Gibson's right eye that required medical attention.
This seemed to give Gibson as second wind as he rebounded and landed a thundering right hand that floored his taller opponent.
Gouveia, however, shook off the effects of the punch and effectively used his jab and the occasional combination throughout the remainder of the fight to grind out the win.
Some other winners on last night's 10-bout card included Jamal Eastman, Orin Bancroft, Isaiah Moore and Shaquille Wright.
Full results will be published in a subsequent issue.
The finals of the championships will be staged tomorrow night at the same venue from 18:00hrs.
Boxers who excel at the Open championships will also be selected to compete on the Champions of Champions card next weekend in Bartica.
Around the Web