Last year's most successful cyclist Robin Persaud returned to his triumphant ways yesterday at the National Park by blowing away 24 rival wheelsmen in the feature 35-lap event of the inaugural C. Doekie and Sons Contracting Services, B&R Investment 11-race programme.
Persaud, winner of 15 races last year, stopped the clock at one hour, 18 minutes and 32 seconds and also carted off half of the eight sprint prizes.
It was Persaud's sixth win of the season.
The 38-year-old Carlton Wheelers Cycle Club (CWCC) standout led Albert Philander (Team United) and Paul Choo-Wee-Nam (Team Alanis) onto the podium while his club mate Godfrey Pollydore, Marlon 'Fishy' Williams (Roraima Bikers Club) and Wazim Gafoor (CWCC) completed the top six paid positions.
National road race champion, Raynauth Jeffrey (three) and Warren '40' McKay (one) sped off with the other sprint tokens.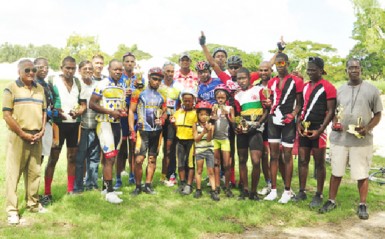 The event initially rolled of at a pedestrian pace but Jeffrey, Junior Sportsman of the Year, Paul DeNobrega, McKay and Philander upped the ante at the second lap and separated themselves from the rest of the starters.
These four riders would enjoy the lead until they were wheeled at the 18th lap by the peloton which included Persaud, Choo-Wee-Nam, Pollydore, Williams, Hamza Eastman and Gafoor.
The lead would interchange with several sets of riders staging unsuccessful breakaways until the evergreen Persaud and Philander changed gears with six laps from the finish.
One lap later, however, the tireless Persaud staged a solo attack and steadily increased his lead on Philander with every powerful turn of his pedals.
Other winners yesterday were Mario King, Junior Niles, Linden Blackman, Maurice Fagundes, Lennon Dick, Romelo Crawford, Sherwin Sampson, Amo Gomes and Rawle Small.
The riders will now take their talents to the open roads of West Demerara this morning to compete in the 14th annual Diamond Mineral Water 50-mile road race.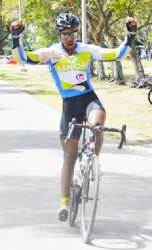 Full Results 
Feature 35 laps
Robin Persaud 1:18:32
Albert Philander
Paul Choo-Wee-Nam
Godfrey Pollydore
Marlon Williams
Wazim Gafoor
Junior and Juveniles 10 laps
Mario King 22:44
Jeban Crawford
Alonzo Ambrose
Veterans Under 50 Years (5 laps)
Junior Niles 11:51:02
Andrew Arjoon
Arjune Phang
Veterans Over 50 Years (5 laps)
Linden Blackman
Virgil Jones
Veterans Over 60 Years (5 laps)
Maurice Fagundes
Mountain Bikers (5 laps)
Lennon Dick
Ozia McAulay
12-14 Years Boys and Girls (3 laps)
Romelo Crawford 11:51:58
Alfie Sonoram
Raphael Leung
BMX Boys 6-9 Years (2 laps)
Sherwin Sampson
Jeremiah Harrison
Alex Leung
BMX Boys 9-12 (3 laps)
Amo Gomes
Sherwin Sampson
BMX Boys 12-14 (3 laps)
Rawle Small
Amo Gomes
Deeraj Gharbarran
BMX Boys Open
Rawle Small
Bryton John
Amo Gomes
Around the Web