New York Better Hope and Trophy Stall XI were yesterday crowned respective champions in the Masters and Open categories of the 2013 Guyana Floodlights Softball Cricket Association (GFSCA) Guyana Softball Cup 111 which concluded at the Georgetown Cricket Club ground, Bourda yesterday.
The tournament, which began on Friday, saw teams from Guyana,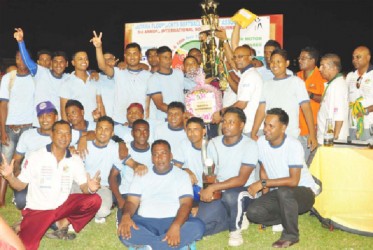 Canada and the United States competing for over one million dollars in cash and and other prizes.
Earlier in the Masters final Most Valuable Player Gus Gordon cracked four sixes in his score of 47 while K. Sankar added 28 to take the New York Better Hope team to 120 for 5 in 19.1 overs. David Harper grabbed 2 for 27 and G Prasad 2 for 21.
In reply Industry Super Kings slumped to 117 all out with J. Persaud 23 and D. Latchman 15 provided resistance. R. Evelyn grabbed 3 for 15 and R. Gafoor 2 for 19.
The Masters category carried a first prize worth $200,000
The Open category which carried a first place prize of $800,000 saw a masterful innings from Fazal Rafiek (59) and Surujpaul Deosarran (45), who joined forces to take their team to a crushing nine-wicket win.
Batting first Wolf Warrior were bowled out for 126 in 17.3 overs with Ameer Nizamudin making 29 an innings which included two sixes and a four, Greg Singh adding 28 and Azad Azeez (18). Bowling for the new champions Rafiek bagged 3 for 15 and Martin Dutchin 3 for 14.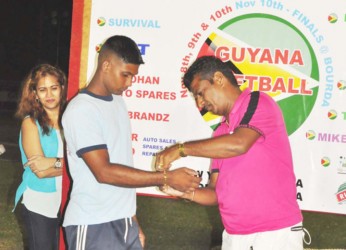 Trophy Stall in reply cruised to 130 for 1 with three overs remaining.
The female exhibition match saw Trophy Stall Angels cruising to a 9-wicket win over Mike's Wellwomen thanks to a well-played 40 from Kavita Yadram.
Mike's Wellwomen made 85 for 5 with Zola Telford and Amanda Bobb carving out 37 and 21 respectfully. Alina Allen grabbed 3 for 18 and Anisa Persaud 2 for 15.
The Angels in reply skipped to 86 for 1 compliments of Yadram and 26 from June Ogle.
The MVP of the Masters category was Jagdish Persaud of Industry Super Kings who received gold bracelet compliments of Steve's Jewellery.
In the female exhibition category, Yadram carted away the female MVP award, G$50,000 and a trophy.
The awards in the Open category went to Deosarran who copped the MVP award and Rafiek the player of the series award which was a gold bracelet.
Around the Web