Canada-based golfer Jaipaul Suknanan on Saturday won the MACORP Invitational golf tournament at the Lusignan Golf Course.
Suknanan was precise with his drives, chipped with purpose and putted with confidence which resulted in 14 pars, a birdie and the top prize in this year's edition of the annual tournament.
The 2007 Guyana Open winner shot two over par to finish with a net score of 65 (playing with a handicap of seven). He won on a count-back against Dave Mohamad (with a handicap of 25) who had also finished with a net score of 65.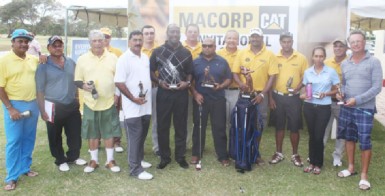 Archbishop Dr Philbert London(28 handicap) placed third as his last nine holes proved better than two other performers (Mattie Wesslin and R. Persaud) with similar scores of net 67.
In the ladies department it was all Christine Sukhram as she walked away with both the net score and gross score trophies.
Sukhram, the country's most dominant female player for almost a decade, ended with a net 73 playing with a handicap of 10.
The MACORP tournament, highly regarded on the golf calendar, was also played by brothers Avinda Kishore and Avinash Persaud.
The former, who won the prestigious Guyana Open title one week prior, could not replicate his winning performance. The five-handicapper made consecutive birdies early in the back-nine but faltered towards the end to finish with a gross score of 76.  His older brother Persaud, who has won the Guyana Open four times, made two under in his back nine to win on a count-back against Suknanan in the gross scoring department. Both finished with a gross of 72.
The closest to the pin award was won by Robert Hanuman while the longest drive prize went to Roger Rajkumar.
Managing Director of MACORP, Jorge Medina, a player himself, spoke about the importance of golf and tourism at the presentation ceremony.
Around the Web