The Guyana Defence Force (GDF) defeated Santos FC 3-1 as the Guyana Football Federation (GFF) Premier League continued on Sunday at the Georgetown Football Club (GFC) ground, Bourda.
Desford Williams opened the scoring for the army unit in the 10th minute with a simple slot home to the bottom right hand side of the net after running onto a flat left-sided Eusi Phillips cross.
Wily wide man Delwyn Fraser made it 2-0 in the 26th minute, stabbing home his right footed strike from the left side of the box beyond the reach of the advancing Santos custodian Dervin Bennett to the lower right hand corner.
Santos would cut the deficit to one two minutes later as Anthony Abrams, upon intercepting a squared pass from centre half Royan Morrison, powered his effort into the top right hand corner of the goal.
GDF almost restored their two goal advantage in the 42nd minute but a curling left sided right footed effort from just outside the box by Fraser, was acrobatically denied by Bennett full stretch to his right as half time beckoned.
Santos almost restored parity to proceedings in the 53rd minute as Jermain Bamfield's effort from inside the penalty area was desperately cleared off the goal line by Morrison, after the GDF custodian Tyrone Warren advanced in attempt to thwart the danger.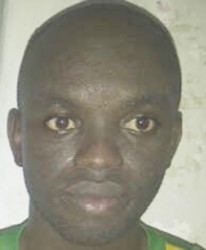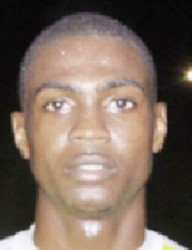 Jermaine Fraser would then direct his header just over the cross bar 11 minutes later from a Lennox Arthur left side free kick as Santos began to press forward in search of the equaliser.
Bennett would once again keep the score line intact in the 77th minute, denying a powerful right sided Fraser strike from point black range with his legs inside the penalty box.
GDF would be denied once more four minutes later as Bennett parried a Stevie Petri's low left sided drive around his right upright.
However, his efficient showing between the upright would be marred by an absolute howler that led to army side finding the back of the net in the 88th minute.
Positioned in the centre of the woodwork in an attempt to deny a 30 yard free kick from Kennard Simon, a comedy of errors would soon prevail as Bennett allowed a regulation save to go straight through his hands and nestled into the back of the net.
At the Beterverwagting (BV) ground, Buxton United edged BV/Triumph United 1-0 through a Clive Andries 32nd minute strike in the battle for the East Coast.
The opening encounter of the doubleheader saw BK Western Tigers defeating Mahaica Determinators 2-0 through goals from Daren Benjamin and Jerome Richardson in the 45th and 81st minutes respectively.
Around the Web