Prime Minister, Samuel Hinds met with co-founders of the Kashif and Shanghai (K&S) Organization, Aubrey 'Shanghai' Major and Kashif Muhammad yesterday and pledged his support for their long standing year-end football tournament.
During a simple ceremony at his office, Hinds presented the championship trophy of this year's 24th edition of the K&S tournament which will involve secondary schools instead of the traditional senior ball clubs and pledged to purchase tickets for all school children to witness the December 27 matches at the Mackenzie Sports Club (MSC) ground.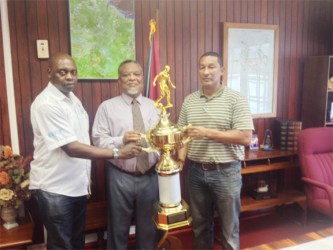 In brief remarks, the Prime Minister stated that:" I am pleased to say that I will be providing the funding of $250,000 so that one of the playing days in Linden will be free of charge to all school children, I will also be providing the championship trophy."
Hinds wished the tournament success and added that he expects a high level of discipline from the young ball weavers.
Major and Muhammad welcomed the support and mentioned that they will continue to do their part in the development of football in Guyana.
This year's competition which involves 24 of the nation's top secondary school's vying for the top honours of $1.2M kicks off on December 8 at the Georgetown Cricket Club (GCC) ground, Bourda and concludes on January 1 at the Providence National Stadium.
Around the Web