Guyanese long distance athlete Lionel D'Andrade was crowned the Suriname Marathon open champion on Saturday.
D'Andrade who competed in the open division, stopped the clock at two hours, 25 minutes and 19 seconds to clinch victory in a race that was 26.1 miles in distance.
"It was good, I ran faster than last year as I reduced my time by six minutes. Now I am going to compete in a marathon in Trinidad and Tobago on Saturday" added D'Andrade.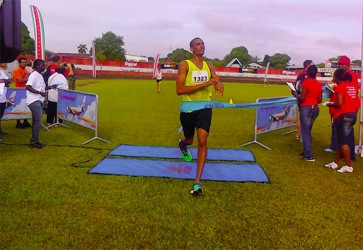 In the masters section, Guyanese Llewellyn Gardner claimed the stop spot with a time of three hours, 29 minutes and 57 seconds.
On the distaff side, local distance queen Alika Morgan claimed the top spot in the 18-25 category with a time of three hours and 50 minutes.
However Morgan's time was only good enough for the second spot in the women's open division. In an invited comment, Morgan said "After 32 kilometres I was starting to get cramps because I didn't prepare properly for the race which made me had to settle for second. However I am satisfied".
Morgan's coach Lester Blacks in an invited comment thanked the sponsors Prime Minister Samuel Hinds, Trans Guyana Airways Incorporated, Minister of Public Service Jennifer Westford and the Guyana Telephone and Telegraph company for helping to make the trip for his athlete possible.
Around the Web