BRISBANE,  (Reuters) – Australia coach Darren Lehmann has warned England that paceman Mitchell Johnson could fire again in the second Ashes test next week, even if the Adelaide Oval serves up a relatively docile surface.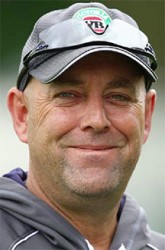 Johnson was back to his brilliant, pacy best in the first test at the Gabba, claiming Man of the Match honours with a haul of 9-103 – including 5-42 in the second innings – to drive the hosts to a 381-run victory and a 1-0 series lead.
The 32-year-old was dropped from the second Ashes test three years ago after a disappointing Gabba outing but this time Lehmann believes he could reprise his Brisbane blitz even on the new drop-in wicket in South Australia.
"It depends what we get in Adelaide, we don't know," he told reporters on Sunday. "But he bowled beautifully here. He was aggressive, got bounce and had confidence.
"I have been impressed with him on the ground and off the ground too. He can do it on any pitch with his speed and velocity."
Johnson's haul in the Ashes opener took him to 214 test wickets in 52 tests and while England will not look forward to facing him at Perth on this form, there will always be question marks about him because of his sometimes erratic bowling.
"He's in a good spot," Lehmann added. "We want all players to improve every day.
"He will be wayward but you accept that but when he is good he is very good and exciting like in this test."
 'LEHMANN INFLUENCE'
Lehmann seems to be getting the best out of Johnson and the former test batsman has clearly been a factor behind the renewed confidence with which Australia played at Brisbane.
"The Lehmann influence on this Australian side is incredibly noticeable," another former Australian test cricketer, Jason Gillespie, Tweeted at the weekend.
"Clear, simple plans. Backing players publicly and privately. Positive environment. Aggressive cricket."
Around the Web