LOS ANGELES,  (Reuters) – All season long, Los Angeles Clippers head coach Doc Rivers has been preaching his mantra that NBA championships can be won only with good defense and his new team finally came up with the goods for all four quarters.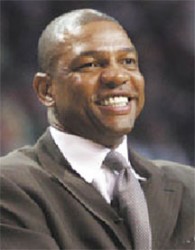 The veteran coach struggled to keep a beaming smile off his face after the Clippers produced an all-round effort against a severely weakened Chicago Bulls lineup at Staples Center on Sunday, romping to a 121-82 victory that was the largest winning margin in franchise history.
The Bulls were always likely to struggle in the absence of their star player Derrick Rose, who is out for the season after injuring his right knee last Friday, and they were routed as six Los Angeles players scored in double-digits.
But it was the Clippers' stingy defense, superbly led by Blake Griffin and DeAndre Jordan, that most excited Rivers, who took charge of the team in June after being acquired from the Boston Celtics in exchange for a future draft pick.
"I am just really happy," Rivers beamed as he spoke to reporters after the Pacific Division-leading Clippers improved to 10-5 for the season. "This is the most active our hands have been defensively.
"It was yesterday's game (against the Sacramento Kings on Saturday) in the first quarter for all four quarters. I thought our bench was wonderful in the first half, second too, but especially in the first half.
"Our bigs were in for the fight. They rebounded, even on makes they were able to get the ball out as quick as possible and move it up the floor. We scored a ton of points after they made shots within six seconds and when you can do that it really hurts the other team."
The Clippers out-rebounded the Bulls 44-39 in front of a capacity crowd of 19,245 with forward Griffin pulling in 12 and center Jordan seven. Los Angeles also came up with eight steals to Chicago's two.
"It was the perfect storm in some way because there was no Rose but I thought our defensive energy was fantastic," said Rivers. "We were sharp offensively, we were making shots and moving the ball."
Asked to assess the performance of Chicago, who were missing both Rose and Jimmy Butler (turf toe), Rivers replied: "I expected them to play great … but we jumped on them so quickly that I thought it had to have a mental effect.
"If they would have come out early and played well, I would have thought the game would be tight all night, but we came out and played unbelievable."
 ERRATIC DEFENSE
Rivers, one of only four active coaches to win an NBA title, has watched the Clippers perform erratically on defense this season, most notably at home against the Kings on Saturday when they eked out a 103-102 win
After defending brilliantly in the opening quarter, the Clippers faltered badly and had to rely on All-Star point guard Chris Paul to bail them out as he hit the go-ahead free throw with 2.5 seconds left to finish with a team-high 22 points.
"At some point we knew we weren't going to shoot the ball as well, but we've got to find a way to sustain our defense," Paul said. "We've got to put teams away and not keep being in all these dogfights.
Around the Web