BRISBANE,  (Reuters) – England's calamitous start to the Ashes continued yesterday when batsman Jonathan Trott walked out on the squad with a stress-related illness which ruled him out of the remainder of the series Down Under.
The day after England were thrashed in the first test by 381 runs, the England and Wales Cricket Board (ECB) issued a statement saying Trott was taking a break from cricket for the "foreseeable future".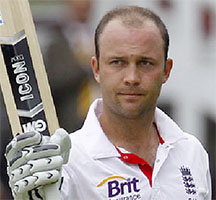 Since breaking into the test side in 2009 Trott has built a reputation as a reliable and resilient number three but he appeared to have been targetted as a potential weakness by the Australians ahead of the current series.
He was bounced out by pace bowler Mitchell Johnson for scores of 10 and nine at the Gabba and the home side's opener David Warner described his second innings dismissal as "weak".
"I don't feel it is right that I'm playing knowing that I'm not 100 percent and I can't currently operate at the level I have done in the past," South Africa-born Trott, who made his test debut against Australia, said in a statement, having already flown out of the country.
"My priority now is to take a break from cricket so that I can focus on my recovery. I want to wish my team mates all the very best for the remainder of the tour."
England coach Andy Flower, who along with captain Alastair Cook branded Warner's comments disrespectful, fully supported Trott's decision.
"Jonathan has been struggling with this condition for quite a while," Flower told a news conference.
"We have been on tour for about a month and he has had his ups and downs through that month and it is not directly related to that.
"I would also say players commenting to fellow professionals in the media is disrespectful and I think on this occasion he (Warner) has got that horribly wrong."
Trott has been a mainstay of the side since making his debut and he averaged 89 in 2010-11 when England won an overseas Ashes series for the first time in 24 years.
However, the Warwickshire batsman struggled for form in the home series victory over Australia earlier this year when he averaged only 29.
Flower said he hoped that Trott would come back strong but said his health was the priority.
"He has to have his time away, recuperate" he said. "I have the utmost respect for Jonathan as a man and a cricketer. He has been a brilliant number three and is a great guy to spend time with, he is also a strong man.
"I'm confident he can come back from this but it wouldn't be the end of the world if he didn't, he can be very proud of everything that he's done."
 BOARD SUPPORT
ECB managing director Hugh Morris said Trott would be given "support and space" in his recovery.
"We fully support his decision to leave the tour and the ECB will provide all the assistance we can to help Jonathan and his family through this period," he said in a statement.
"Jonathan has asked for privacy while he recovers and I would urge everyone to respect that."