Nine-year-old karate sensation Tyler Orderson continues to impress senseis at the Guyana Karate College (GKC), leading a group of young martial artists who turned in sterling performances at the final grading examination for 2013.
The GKC made a number of promotions after the exams and now plans to focus on preparations for the International Karate Daigaku South American Cup planned for Guyana in April.
Orderson, a student of Marian Academy and a top student of the GKC continues to mature in his budding command of the arts. He now holds the record of being the youngest person to earn a nidan (second degree black belt) after having been recorded as the youngest person to achieve a shodan (first degree black belt) ranking at the age of seven in 2011.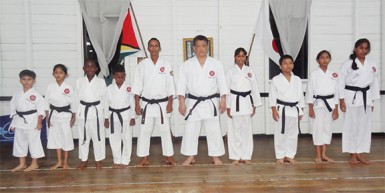 Joining Orderson with attaining the rank of nidan is fellow Marian Academy student Alyssa Persaud, who is considered a very talented and dedicated karateka.
Mickelly Rahaman, Rabecca Ramlal, Rachael Ramlal, Rajiv Lee, Khalid Adams, Zane Low and Arvin Seelall, all undertook a gruelling examination to earn their shodan (black belt) rankings.
Daniel Denny, Damale Denny, Clyde Sampson, Akil Sampson, and Ezekiel Poulis moved from 10th kyu to 9th kyu while Bibi Mohamed, Kyle Chung, Kellisha Jupiter, Dana Persaud, Lana Persaud, Mario Dos Santos, Chrisann Newton, Rayden Persaud, Danielle Khan, Lemuel Scott, Jonathan Robinson and Eaton Low moved from 10th kyu to 8th.
Karatekas who moved from 9th kyu to 7th kyu are Aditya Seetaram, Jonathan Niranyan and Kenrick Narine, while Alexander Persaud moved from 8th kyu to 7th kyu. Progressing from 8th kyu to 7th kyu were Aron Hendricks, Demetri Lowe, and Kiefer Barker, Destiny Cao, Bruce Yong, Rudy Austin, Seon Poulis and Thamika Wong.
Jun Mikami, William Escarraga, Alyssa Singh, Nizi Realine, Krystal Realine, Jonathan Ramlal, Vickram Thani all moved from 7kyu to 6th kyu while  Faraud Mohamed moved from 7th kyu to 5th kyu.
Jeremiah Poulis moved from 8th kyu to 6th kyu; Ethan Jones from 6th kyu to 5th kyu while Motilall Mattadin's outstanding performance allowed him to skip from  7th kyu to 5th kyu. Anish Sharma, Joshua Zaman, Daniel Lowe, Dominick Johnson all advanced from 6th kyu to 5th kyu.
In addition, Aiden Singh moved from 7th kyu to 5th kyu, Ronaldo Persaud from 6th kyu to 5th kyu, along with Michael Alphonso and Scott Habibullah. Jayden Hurry, Deron Austin, Daniel Hing, Basilia Bettencourt, Samuel Munroe, and Ian Boller were all promoted from 5th to 4th kyu.
Stefon Smith, Brittney Bettencourt, Daequan Burnett, Rayad Boyce moved from 4th kyu to 3rd kyu while Aron Connelly's stellar routine allowed him to skip from 3rd kyu to 1st kyu. Nigel Roberts moved from 3B kyu to 2nd kyu.
Lastly, moving from 3rd kyu to 2nd kyu were Jayz Halley, Princess Charles, Reba Ramlal, Carmalita Byrne.  Navinda Soodoo moved from 3rd kyu to 1st kyu, while ascending from 2nd kyu to 1st kyu were Otho Harris, Rhea Connelly, Jonathan Connelly and Ryan Sarjoo.
The GKC is also planning a programme to mark 45 years of karate-do being practised in Guyana. Karate-do was started here by Master Frank Woon-a-Tai who is now a ninth degree black belt and the Chairman and Chief Instructor of the International Karate Daigaku World Karate Organization.
Around the Web