VISAKHAPATNAM, India, CMC- Opener Kieran Powell says West Indies would be looking to use the momentum from their victory over India on Sunday to push for a series-clinching triumph in the final match of the series today at Green Park in Kanpur.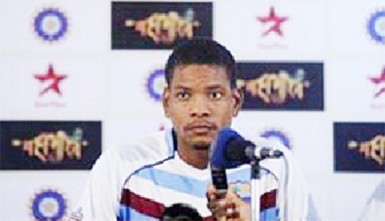 Dwayne Bravo's men pulled off a nerve-racking two wicket victory to draw level in the three-match series as they bounced back from a six-wicket loss in the first ODI.
Powell was one of the architects of the victory, hitting 59 from 70 balls and shared a 100-run, third-wicket stand with Darren Bravo, as the Windies successfully chased 289."We will be very confident going into the next match," Powell declared.
"It is a day match, so totally different conditions in terms of the dew. It's up north so it might be a bit cooler, but we just have to assess the conditions and play accordingly." Powell, Darren Bravo, Lendl Simmons and Darren Sammy all scored half-centuries as the West Indies won the game and leveled the series at the Reddy Stadium.
"Obviously, being 0-1 down in the series, this win was very crucial for us, to level the series and to go to Kanpur, looking to win the series," he said.
"We believe we can beat anybody anywhere in any conditions, but it's just for us to put the pieces of the puzzle together now."
Powell came into the line-up to replace fellow opener Chris Gayle, who has returned to the Caribbean following a hamstring injury.
"[There was] no pressure. I cannot play the way Chris Gayle plays," said Powell when asked if he was whether he was under pressure to fill Gayle's shoes.
"There was definitely no pressure on me. I just wanted to play my game and enjoy it and it worked in our favour and we won."
Around the Web