CHRISTCHURCH, New Zealand,  CMC- A makeshift West Indies team has made a positive start against a New Zealand X1 who declared on 227 for 8 at stumps on the first day of a three-day match yesterday.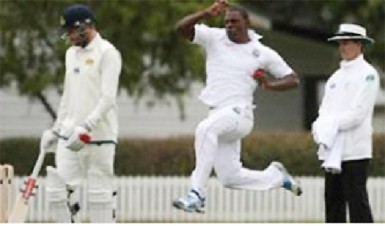 West Indies pacers made solid progress removing Black Caps opener Peter Fulton for one and national captain Brendon McCullum for 22 after the New Zealanders won the toss and elected to bat.
Sheldon Cotterell and Shannon Gabriel, the pick of the West Indies bowlers, both bowled with good pace and troubled the home batsmen, while Shivnarine Chanderpaul also had a brief go with his slow bowling.
Gabriel took 2 for 53 and Cotterell 2 for 60 for the West Indies who are short-handed as they await members of their limited overs squad currently in India.
There were also two catches for Chadwick Walton behind the stumps. Test opener Hamish Rutherford who dashed to a half-century from 29 balls that included 12 fours in an innings of just 49 deliveries, top-scored with 61 for a New Zealand XI. New Zealand captain Brendon McCullum, battled chronic back pain to make 22.
The first of three Tests begins next Tuesday at the University Oval in Dunedin.
Scoreboard
NEW ZEALAND XI First Innings
P Fulton   b SS Cottrell                            1
H Rutherford c CAK Walton b MJ Tugaga             61
D Brownlie   lbw b ST Gabriel                             6
T Latham   c CAK Walton b SR Wells                 27
* B McCullum   b SS Cottrell                             22
† D de Boorder   b SR Wells                                 4
M Craig   c & b TG Johnston                              24
T Astle   lbw b ST Gabriel                                  30
A Verma   not out                                               31
JD Baker   not out                                                7
Extras   (B 0, Lb 8, Wd 0, Nb 6)                        14
TOTAL   (for 8 wickets declared
in 56.2 overs)                                                  227
Fall of wickets 1-1 (P Fulton), 2-32 (D Brownlie), 3-85 (H Rutherford), 4-112 (B McCullum), 5-122 (D de Boorder), 6-129 (T Latham), 7-168 (M Craig), 8-207 (T Astle)
Bowling: Gabriel 14.2-1-53-2,Cottrell 13-2-60-2, Tugaga 8-1-23-1,Wells 6-2-21-2, Johnston 10-0-41-1,Chanderpaul 1-0-1-0, Raval 4-0-20-0.
Around the Web