By Duncan Saul
North East La Penitence edged Festival City 2-1 in their group-C matchup when action in the Guinness Greatest of the Streets Georgetown Zone continued last evening at the National Cultural Centre Tarmac on Hadfield Street and Mandela Avenue.
In what would prove to be an evenly contested opening first period, Bevon Mosley would open the scoring in the 16th minute of the second period for North East La Penitence, with a first time right-sided strike to the left hand side of the net after collecting a pass from the left flank.
Their lead would be short-lived as Festival City restored similarity to the score line one minute later through a simple slot home by Daniel Favourite in front the centre of the goal, after collecting a squared right-sided cross from Dwayne Lawrence.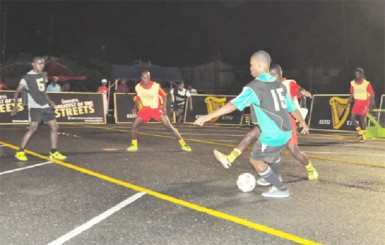 The go-ahead winner would eventually be found in the 22nd minute for North East La Penitence, as Calvin Moore etched his name on the scorer's sheet with a simple flicked on shot to the back of the net from just outside the left post.
In the second showdown, California Square crushed Kingston 4-0 in their group-D fixture. Mark Canterbury opened the scoring in the eighth minute with an easy slot home down the middle of the goal after collecting a right-sided Christopher Darlington cross.
Darlington would be at the forefront of another goal in the 19th minute as Canterbury completed his double with a well-placed strike down the centre of the woodwork after latching onto another right-sided pass from the former.
California Square would continue to assert their dominance as Alan Spencer found the back of the net in the 25th minute. Spencer however would save the best for last, as he doubled his individual tally two minutes later with a perfectly placed right-footed strike to the roof of the net from the halfway line.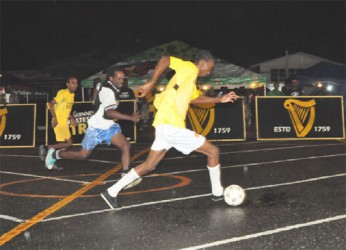 The score line could have been added to as the California Square strikers were culpable of missing four consecutive clear cut opportunities.
Around the Web