The signatures have been affixed, the die is cast, and the Boxing Day card at the Mackenzie Sports Club (MSC) ground dubbed 'The Linden Showdown' is official.
Following yesterday's contract signing at the head office of the Guyana Boxing Board of Control (GBBC) on the Avenue of the Republic, the stage is now set for 26 rounds of fistic fury.
Nation's Promotions will look to deliver a knockout night of boxing when professional boxing returns to Linden. The event according to the promoter Omotola Goulding, is an eight-bout card comprising four amateur and four professional fights which is envisioned to ignite the Mining Town.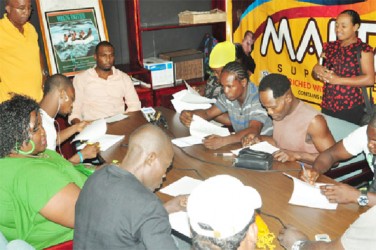 The action will start with Kelsie George taking on Romeo Norville in a four-round super middleweight contest. Linden native, Cassius Matthews will then step into the ring to face Kishawn 'Special K' Simon in a six-round light welterweight fight.
New knockout sensation, Derrick 'Lights Out' Richmond will then square off against the experienced James Walcott for the vacant super middleweight title of Guyana. The card will be headlined by Linden's own, Shaundell Park and Shelly 'The Boom' Gibson in a four-round heavyweight trilogy.
Parks and Gibson will both look to settle the score as both fighters have victories against each other.
The combatants on hand at the contract signing were mostly tight-lipped and did not reveal prefight predictions but they all promised victories over their respective opponents.
"This card is very important and its pretty much there to assist the young fighters" said Goulding. "It is a great opportunity to help them to advance and with the public support this can go a far way". Goulding also mentioned that the promotional company which is headed by his father Carl (a former boxer) will look to bring off boxing cards three times a year. He told media operatives that the next event will be staged during the Linden Town Week activities followed by cards in mid 2014 and at the end of 2014.
When quizzed about the recent inclement weather and its potential impact on the card, Goulding stated that if the rains persist, alternative arrangements will be put in place to ensure the event is not affected.
The amateur pugilists competing on the card are yet to be named. One major sponsor onboard so far is Banks DIH Limited.
The first bell should sound around 20:00hrs.
Admission will be $1000.
Around the Web