PORT-OF-SPAIN, Trinidad,  CMC- Jamaica's Under-19 boys beach volleyball pair of Rojey Hutchinson and Shavar Bryan have qualified for the 2014 Youth Olympic Games after beating their Barbadian opponents in straight sets on Thursday.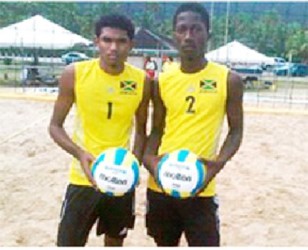 Hutchinson and Bryan scored a comprehensive victory over the higher ranked Bajans 21-12, 21-15.
"We knew that we had the technical competence and were well prepared; so we just had to cut down on the unforced errors," said Captain Hutchinson.
"We did that very well and the result speaks for itself".
The 2014 Youth Olympics will be held in Nanjing, China. Hutchinson and Bryan will remain in Trinidad and Tobago to play in the male division of the NORCECA Beach Volleyball this weekend.
Around the Web