A section of the race course facility at Bush Lot, West Coast Berbice was destroyed when the Central Housing and Planning Authority (CH&PA) held a demolition exercise on Thursday.
The structures demolished included the fence, stables, shed, reservoir and gate at Sea View Park that is run by the Bush Lot United Turf Club (BLUTC).
The exercise, which resulted in millions being lost, was conducted in the presence of the police, even as residents openly voiced their concerns.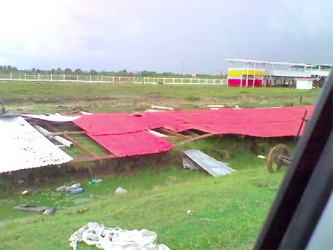 With hardly any form of entertainment in the area, residents looked forward to horse race meets and other forms of entertainment at the recently resuscitated facility.
Stabroek News understands that the CH&PA wants to use the land for house lots. But members of the club are dissatisfied saying that the land had long been designated for horse racing.
Treasurer of the BLUTC, Lakeram Sookdeo said they received a letter from the CH&PA, dated October 11, instructing them to cease all developmental work or face the consequences. The letter did not state a reason why the order was issued.
Sookdeo said that over 60 years ago the then district governor gave the land to the BLUTC for horse racing purposes after a delegation headed by Balbadur Sewsankar and Bhowandin Sukdeo met with him.
He said too that a few years ago government had earmarked the land for the construction of the health centre but after objections from residents, the building was relocated.
Reports are that a section of the race course had already been taken away for housing purposes.
Around the Web