CHRISTCHURCH, New Zealand,  CMC-Chadwick Walton scored a half century as the West Indies tour match against a New Zealand X1 ended in a draw here yesterday.
Walton was unbeaten on 61 from 90 balls as West Indies reached 121 for two in their second innings before stumps were drawn just before the tea interval.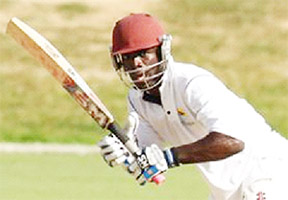 Earlier, New Zealand declared their second innings at 168 for three after resuming from their overnight score of 103 without loss.
Black Caps openers Hamish Rutherford and Peter Fulton made 73 and 52 respectively at the top of the New Zealand XI's second innings before they retired.
New Zealand captain Brendon McCullum, seeking runs to end a form slump heading into the three-Test series, was dismissed for 10 to follow his 22 on the opening day.
West Indies were set a target of 166, which they were approaching comfortably before stumps were called with the visitors 51 runs away from victory.
The West Indies side, boosted by a handful of New Zealand domestic players as their full tour squad had not arrived by the game's start on Tuesday, didn't pursue the victory.
The first of three Tests begins next Tuesday in Dunedin.
Scoreboard
New Zealand X1 1st innings
227-8 dec.
West Indies X1 1st innings
230-6 dec.
New Zealand XI 2nd innings
P Fulton retired out                                                            53
H Rutherford  retired out                                                   72
B McCullum* c O'Donnell b Tugaga                                 10
T Latham not out                                                                9
D de Boorder†  not out                                                        6
Extras   (b 4, lb 4, w 5, nb 5)                                             18
Total     (3 wickets dec; 36 overs)                                    168
Did not bat DG Brownlie, MD Craig, TD Astle, A Verma,
JD Baker, AW Mathieson
Fall of wickets 1-142 (Rutherford), 2-142 (Fulton), 3-156
(McCullum)
Bowling: Gabriel 9-0-43-0,Cotterell 7-0-44-0,Tugaga 10-4-27-1,wells 6-0-29-0, Johnston 4-0-17-0.
West Indies X1 2nd innings
K Edwards*  c Latham b Craig                                          25
C Walton†  not out                                                            61
S Chanderpaul  c Mathieson b Craig                                  12
R O'Donnell not out                                                         16
Extras   (lb 4, w 1, nb 2)                                                    7
Total (2 wickets; 31 overs)                                                 121
Did not bat JA Raval, AJ Redmond, SR Wells, SS Cottrell, TG Johnston, MJ Tugaga, ST Gabriel
Fall of wickets 1-60 (Edwards) 2-78 (Chanderpaul)
Bowling: Verma 3-0-21-0, Mathieson 7-1-24-0, Craig 13-1-38-2, Baker 4-1-14-0, Astle 4-1-20-0
Umpires GAV Baxter and BF Bowden
Match referee DM Quested
Around the Web