(Cricinfo) Captains have plenty to think about before a Test series begins – media commitments, which XI to select and the decision at the toss among them – even before they get to their own performances. That combination of team and personal welfare has proved too much for many and that's why a captain whose form remains unaffected by the strains of captaincy is such a lauded and prized asset.
Brendon McCullum and Darren Sammy, the opposing leaders in the upcoming Test series which begins in Dunedin on Tuesday, have both had moments to savour as captains at international level but the pair begin this contest with major questions hanging over them.
McCullum, a player full of boldness and bravado, is suffering from a long-term crippling back condition, which forced him home from Bangladesh and means his future is likely to be a fitness, rather than form, issue. Sammy's Test credentials, having already been removed as the ODI captain, were severely weakened during West Indies' horrendous performances in India, with the defeat in Kolkata ending a run of six Test wins on the bounce.
Being turned over on the subcontinent is no disgrace, but it was the manner in which they folded with barely a whimper, after reducing India to 83 for 5 in Kolkata, that left an empty feeling. Sammy was at the forefront of the criticism for shots he played in the first innings of both Tests – caught in the deep off Pragyan Ojha in Kolkata and in a similarly reckless manner, second ball, in Mumbai off R Ashwin. 'Natural game' and 'counter-attacking' are vacuous defences for such shots when your team is in the mire.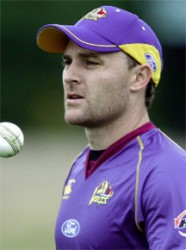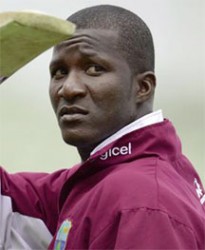 The problem for Sammy is that the second part of his game, the seam bowling, is not standing up to scrutiny at Test level, either. The overall average of 35.66 is not a write-off, but unless a surface is green or made for nagging medium-pace (the latter was the case when he bowled West Indies to victory against Pakistan in Guyana and may also be the case in New Zealand), he is not a Test-class third seamer. His average rises to 39.94 from his 27 matches as captain. Neither is he a Test-class No 6 (or even, at the moment, a 7 or 8). Therefore he is a captain being carried. In his last three Tests he has bowled a grand total of 40 overs and taken one wicket.
Sammy knows his recent returns are not enough. "I didn't have a good tour in India," he said. "I want to reassure myself as a Test captain and Test cricketer."
When he took over the role from Chris Gayle in 2010, he was not even a regular in the starting XI. West Indies needed someone to inspire and unite. Sammy, a man brim-full of passion, ticked those boxes. Six wins in six (and the World T20 title, albeit in a vastly different format where Sammy the allrounder is a more accommodated player) is not to be sniffed at; it is a more favourable return than New Zealand have enjoyed. But even in those Test matches, Sammy averaged 30 with the bat and, most tellingly, 55 with the ball.
McCullum's Test record stands up to somewhat more scrutiny than Sammy's – although his last century, 225 against India, came in 2010 which is a vast gap for such a batsman. Handed the captaincy controversially when Ross Taylor was sacked last year, being bowled out in a session in Cape Town was a rough start, and laid a low base for improvement, but for a while there were signs that McCullum's way was working. New Zealand should have beaten England earlier this year which would have been their finest series victory since 2002 when they trounced India on homemade greentops, or arguably 1999 when they overcame England away.
Although the hundred continued to prove elusive for McCullum, the way he batted set a tone of defiance and determination. He scored three half-centuries against England, but the return series – in tougher batting conditions – did not see him pass 20. The recent Tests in Bangladesh have again been lean with 54 runs from three innings. He has recently admitted his back was causing him more problems than he let on.
Both McCullum and Sammy come across well when they talk. Sammy really does care, which may seem an odd thing to say about a sports captain but it has not always felt the way with some West Indian players, and McCullum freely admits he has to make the most of some meagre resources, which are made even thinner when he doesn't contribute significant runs.
McCullum was particularly impressive as a leader during the series against England and the Champions Trophy, but despite references to "trending" in the right direction their results remain much of a muchness. They had two Test wins in 2012, but one of those came against Zimbabwe at home, and have yet to register one in 2013 although Auckland came desperately close. The draws (two in 10 Tests last year and five in nine in 2013) suggest a team becoming harder to beat, but the Bangladesh series was hard to evaluate. The West Indies series will define their year.
McCullum remains one of the best six batsmen in New Zealand (although that is not a view shared by all) despite a failure to make to the most of his batting talent. Yet that fact, alone, highlights the struggle for world-class batsmen that Bruce Edgar, the new national selector, is trying to deal with.
If there is debate about a current captain, then what are the alternatives? From the New Zealand perspective there is a succession plan in place. Kane Williamson is the anointed one, but there will be a reluctance to burden him just as he is starting to settle into the demanding No 3 role. His time will come, though, and perhaps sooner rather than later.
The alternatives to Sammy are even harder to pick out. For a moment it is tempting to suggest Dwayne Bravo, but he hasn't played a Test since 2010 and his batting and bowling numbers are actually worse than Sammy's.
Denesh Ramdin has leadership experience but is continually battling to retain his place and it's doubtful Shivnarine Chanderpaul wants it on his plate towards the end of his career. Kirk Edwards has led the A team but has been unconvincing at the top level, while Darren Bravo is another name that has been suggested. Sammy has become the Hobson's choice of West Indies cricket. It is not beyond the realms of possibility that this series could mark the end for two captains.
Around the Web