Different country but the same taste of victory for Cleveland Forde.
Guyana's premier distance runner dubbed 'Little Kenyan' followed up October's victory in the initial leg of the 11th South American 10km Road Race Classic by winning Suriname's leg on Sunday.
Forde, 28, took the top honours in the annual event which was staged in Paramaribo after clocking 32 minutes and 50 seconds despite running 14 seconds slower than the first leg which was held on local soil.
He led Trinidad and Tobago's Richard Jones and Guyana's Kelvin Johnson onto the podium.
Guyana's Cleveland Thomas was fourth.
"The race went well, it was not as challenging as the Guyana leg, I was just aiming for the win since I'm carrying a slight groin injury, so I'm just playing it safe, the time really was not a factor" Forde told Stabroek Sport yesterday.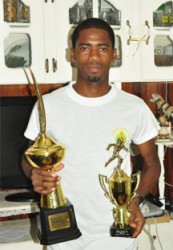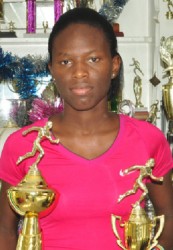 Forde will look to continue his winning ways on Saturday when he competes in the Run Barbados 10km road race event.
Local distance queen, Alika Morgan who was relegated to second place in the first leg by Grenadian, Kenisha Pascal, again had to settle for the silver as Trinidad's Tonya Nero occupied the top spot.
Despite the second place finish, Morgan who completed the event in 41 minutes and six seconds, shaved off a minute and 29 seconds from the time she completed the first leg which was won by Pascal in 42 minutes and 28 seconds. "The race was good although I didn't win, I could not have pushed myself anymore because I'm still a little fatigued from the marathon the week before" said Morgan who placed second in the Suriname Marathon.
"The plan was to run under 40 (minutes) but my body was too stiff, I couldn't push myself any further."
The 23-year-old Morgan also said that she will be competing in the Run Barbados 10km and half marathon events this weekend.
Sunday's win was Forde's fourth 10km road race victory for 2014, he also placed second in the Caricom event. Nero, 24, represented the Twin Island Republic at the World Half Marathon Championships in Bulgaria last year.
Around the Web