The Guyana Beverage Company Incorporated via their Busta soft-drink brand, yesterday poured over $1.5 million into the 10th annual Rose Hall Town & Youth Sports Club (RHTYSC) Champion of Champions Cricket Tournament.
Busta has sponsored the tournament in the ancient county since 2004 and has become a household name there. The matches are scheduled to bowl off in one week's time.
At a brief ceremony held at the beverage company's Diamond Housing Scheme location, RHTYSC CEO/Secretary Hilbert Foster expressed gratitude for the continued support. He also said that the 10th edition of the tournament reflects the sponsor's confidence in the Club and pledged that the matches will see the highest standards of first-division cricket.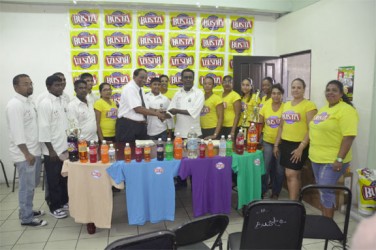 The company further took a decision to support the East Coast Demerara clubs;   pumping cash and other means of support into the Enterprise Busta Sports Club. Club president Karran Ramdhoon said he is grateful to the company which has supported the club for six years. Ramdhoon also wished the Yadram siblings, under-17 player Kamesh, national U-15 skipper Bhaskar and their sister Kavita who represent the women's national team, the best of luck in the future as they are all products of the East Coast division. Players such as national all-rounder Zaheer Mohamed and opener Rajendra Chandrika are also notable cricketers who represent the club.
Meanwhile, Robert Selman, managing director at the beverage company lauded both clubs for abilities and discipline, noting that they have both represented the company and brand with honour. He also praised the RHTYSC as one that is very well-organised.
The tournament will feature eight of the county's top teams: West Berbice, Blairmont Community Centre, Universal Solutions Bermine, Albion Community, Young Warriors Universal DVD, Rose Hall Town Gizmos & Gadgets, Port Mourant Karibee Rice and Upper Corentyne.
The winner will receive $100,000 and a trophy, while the second place finisher will receive $50,000 and a trophy and the man-of-the-match in the finals will receive $15,000.
The Guyana Beverage Company last week also put $1.5M into the 9th edition of the Essequibo Cricket Board's 50 overs-a-side cricket festival knock-out tournament set for December 13-15.
The Guyana Beverage Company Incorporated President Robert Selman (right at centre) presents the cheque to the President of the Enterprise Busta Sports Club, Karran Ramdhoon while Busta representatives and club officials look on.
Around the Web