(The Sports Xchange) – Highlights of Monday's National Basketball Association games.
– – –
Spurs 102, Hawks 100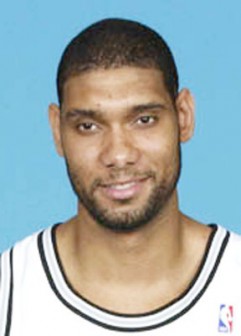 Tim Duncan hit the game-winning basket with four-10ths of a second to go, giving the San Antonio Spurs a 102-100 win over the Atlanta Hawks.
The 37-year-old turned in a vintage performance that included 23 points and 21 rebounds.
The Spurs (15-3) earn their 16th consecutive victory over the Hawks in San Antonio. The last time Atlanta won in the Alamo City was Feb. 15, 1997.
The Hawks (9-10) worked hard to get first-year head coach Mike Budenholzer the win. It was his first trip back to San Antonio, where he spent 19 years, first as a video coordinator and as Spurs coach Gregg Popovich's lead assistant.
– – –
Trail Blazers 106, Pacers 102
The Portland Trail Blazers overcame a 43-point performance by Indiana Pacers forward Paul George, breaking open a tight game with a fourth-quarter run, then holding on for a victory.
LaMarcus Aldridge and point guard Damian Lillard combined for 54 points for Portland (15-3), who never led until the fourth quarter. Aldridge collected 28 points and 10 rebounds and Lillard scored 26 points for the Trail Blazers.
George's career-high included five three-pointers in the final three minutes but Indiana (16-2) saw their seven-game win streak end.
– – –
Pelicans 131, Bulls 128 (Triple overtime)
Jrue Holiday's driving layup and three-point play with 2.6 seconds left in the third overtime period gave the New Orleans Pelicans a marathon victory over the Chicago Bulls.
Chicago forward Mike Dunleavy missed a potential tying three-pointer at the buzzer and the Bulls (7-9) lost for the first time at home this season, and are now 1-4 since losing guard Derrick Rose to a season-ending knee injury.
Ryan Anderson topped New Orleans with 36 points and New Orleans (9-8) won their third straight, all on the road.
Around the Web