(Jamaica Observer) JERMAINE 'Teddy' Johnson, the speedy Jamaican midfieder, has been declared bankrupt, according to reports coming out of Britain on Monday.
The Sheffield Wednesday regular, who has reportedly piled up debts with British tax authorities, had the action filed in a Sheffield court on his behalf by HM Revenue and Customs (HMRC), after the state agency initially petitioned for the player's bankruptcy back in May this year.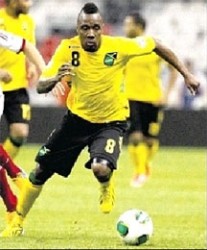 The sum owed by the Jamaican was not disclosed by the HMRC, who claimed that "for legal reasons" it does not "comment on tax affairs of individuals".
"Our aim is not to bankrupt individuals but to collect, as efficiently as we can, the debts that are due and to prevent any situation deteriorating further, using the range of powers available to us," a spokeswoman of the HMRC was quoted in the British media.
Bankruptcy is defined as a legal status of a person or other entity that cannot repay the debts it owes to creditors. In most jurisdictions, bankruptcy is imposed by a court order, often initiated by the debtor.
Around the Web