Director of Sports Neil Kumar and Director of the West Indies Cricket Board (WICB) Baldath Mahabir at the 16th Guyana Cricket Board (GCB) Awards ceremony called for unity in resolving the issues surrounding cricket, along with the provision of an enabling environment to nurture talent and preserve the country's rich cricket history.
The ceremony which was held at the Guyana Cricket Club (GCC) pavilion saw scores of cricketers both male and female, along with executives and representatives of clubs paying homage to the awardees for the year 2013.
Mahabir said that he felt that Guyana had "raw, uncut, untapped" talents which can be found in every village across the country and urged administrators to "find, polish and groom their gems."  He advised, "Allow the game to strive and prosper and do your best to provide an enabling environment that will allow this game to flourish."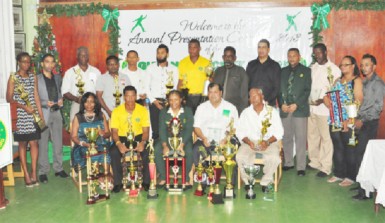 Reiterating the calls of Mahabir, Kumar, in his remarks, said that he hopes the WICB and Guyana can work together towards resolving their issues. He reminded that Guyana had a rich cricket history which should be preserved and urged that everyone put aside their differences and move forward together.
National middle order batsman Leon Johnson, copped the prestigious Male Cricketer of the Year award for his outstanding performances in the 2013 Regional Super 50 and 4-day tournaments. The left-hander was also awarded for his superb knocks against Sri Lanka and India while playing for the West Indies 'A' team.
Female West Indies and National player June Ogle, received the Female Cricketer of the year award based on the success she achieved in the 2013 Women's Regional tournament.
Veteran West Indies batsman Shivnarine Chanderpaul was awarded for the Unique Distinction of representing the West Indies cricket team in 150 Test matches to date; a feat he achieved against India last month.
Johnson who spoke on behalf of the awardees, thanked the board for their support and recognition while lauding his teammates for their performance.
List of awardees: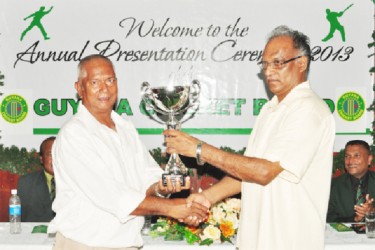 Unique Distinction of representing the WI cricket team in 150 Test matches – Shivnarine Chanderpaul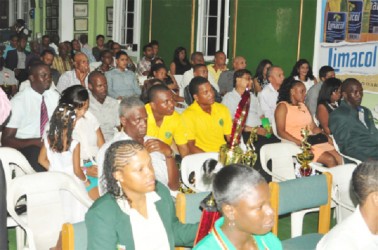 Cricketer of the year (Male) – Leon Johnson
Cricketer of the year (Female) – June Ogle
Club of the year – Albion Sports Club
Most Improved Player 2013 (Lance Gibbs Trophy) – Ronsford Beaton
Junior Cricketer of the Year (Roy Fredericks Trophy) – Tagenarine Chanderpaul
Senior Domestic Cricketer of the Year (Rohan Kanhai Trophy) – Christopher Barnwell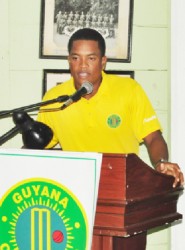 Senior Regional Cricketer of the Year 2013 – Veerasammy Permaul
Outstanding Performance in Regional T20 – Christopher Barnwell
Outstanding Performance at Regional Under-15 2013 – Ronaldo Alimohamed
In recognition for selection in the West Indies Under-19 team – Shimron Hetemyer, Gudakesh Motie Kanhai and Tagenarine Chanderpaul
In recognition for achievement with the West Indies 'A' team – Veerasammy Permaul, Leon Johnson, Narsingh Deonarine and Assad Fudadin
Highest Individual score (TCL Guyana Inc. trophy) Regional Under-19 2013 – Tagenarine Chanderpaul
Most Wickets in the tournament (TCL Guyana Inc. trophy) Regional Under-19 2013 – Gudakesh Motie Kanhai
Most Valuable Player (TCL Guyana Inc. trophy) Regional Under-19 2013 – Tagenarine Chanderpaul
Around the Web