The Guyana Cricket Board (GCB) is to bowl off its 2013 senior four-day Inter-county tournament today with a double header between Berbice and the President's XI at the Everest Ground and a Demerara versus Essequibo encounter at the Enmore Community Centre.
The tournament was originally slated to commence last week but was forced to reschedule its fixtures due to the rain which caused most grounds to be flooded.
Led by West Indies 'A' batsman Leon Johnson, the defending champions Demerara have in their line-up, the batting prowess of Vice-captain Chris Barnwell, who scored a commanding century during the trials, the experienced Ramnaresh Sarwan, Trevon Griffith, Rajendra Chandrika, newcomer Chris Pattadin, wicket-keeper/batsman Derwin Christian along with all-rounders Zaheer Mohamed and Steven Jacobs.
The bowling department features the likes of debutant fast-bowler Randy Knights and fellow fast bowlers Trevon Garraway and Paul Wintz, spinners Amir Khan along with another debutant Totaram Bishun.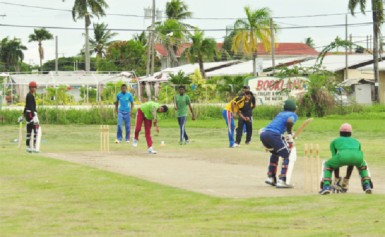 Their opponents from Essequibo also possess a bevy of talented players who are capable of winning matches with both bat and ball. Skipper Anthony Adams, his deputy Rayan Fredricks, aggressive opening batsman Kevon Boodie, Herry Greene, a seasoned Gilford Moore, Dillon Heyliger, all-rounders Ricardo Adams and the talented Kemo Paul, are a few of the players expected to provide match-winning innings.
The other match to be played between Berbice and the President's XI team is expected to be contested on an evenly poised scale since the President XI's team comprises players from the three counties. Power house Berbice will be led by former West Indies opening batsman Sewnarine Chattergoon and features players such as West Indies 'A' batsman Assad Fudadin, Johnathan Foo, Royston Crandon, wicket-keeper Anthony Bramble and all-rounder Rajiv Ivan.
Former West Indies leg-spinner and vice-skipper Devendra Bishoo who has been making huge scores and collecting lots of wickets, will also be a key asset to the team. The Ancient County bowlers, the likes of Keon Joseph, Raun Johnson, Devon Clements and Krisendat Ramoo make up a potent bowling unit.
The President's XI has middle-order batsman Vishal Singh as their leader, backed up by aggressive opener Shemroy Barrington as his deputy.
Former Test batsman Ryan Ramdass, opener Robin Bacchus, all-rounder Shaquille Williams, Berbice wicket-keeper/batsman Jason Sinclair, Dominique Rikhi, Seon Hetemyer, and all-rounder Romario Shepherd, make up a formidable batting unit. Fast-bowlers Kellon Carmichael, Seon Daniels and Andre Stoll accompanied by spinner Steven Sankar and Collis Butts top off a team filled with all-round talent.
The tournament is sponsored by the Guyana Telephone and Telegraph Company (GT&T) and the insurance firm Hand-in-Hand Group of Companies. The matches get underway at 9.00 am.
Around the Web