ADELAIDE,  (Reuters) – Australia captain Michael Clarke renewed his love affair with Adelaide Oval by scoring a sublime century to push Australia to a commanding 389-5 at lunch on day two of the second Ashes test last night.
Clarke was unbeaten on 109 at the break with his vice captain Bradd Haddin alongside him on 57 after the pair punished a flagging England attack to add 116 runs to the overnight total in an unbroken stand of 132.
Having dropped three catches on yesterday's opening day, two of which would have dismissed Clarke and Haddin, England's fielders let their bowlers down again on an overcast morning beside the River Torrens.
Haddin could well have been run out for 18 after being called through for a cheeky single by Clarke but was let off by a poor throw back to the stumps by Michael Carberry, who also spilled a simple catch just before stumps on Thursday to save the wicketkeeper.
Haddin was granted another life on 30 by Monty Panesar, who held up rather than take a dive to catch a miscued pull shot off seamer James Anderson just before the drinks break.
Ian Bell also put down a tough chance at short leg when Clarke, on 91, charged down the wicket in a bid to despatch spinner Graeme Swann but succeeded only to nick it behind.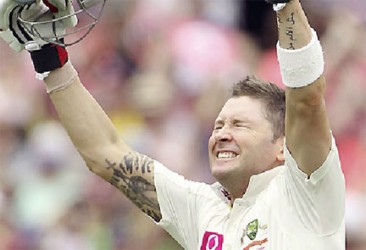 The most glaring howler, though, was from England new boy Ben Stokes who had Haddin caught behind on 51 only to have his maiden test wicket in his debut match taken away on review when it was shown he had overstepped the mark.
Haddin gave the all-rounder some choice words at the end of the over and the 22-year-old Stokes responded in kind, prompting umpire Marais Erasmus to step in to defuse the tension.
The session belonged to Clarke, who roughed up Panesar early and in turn carted England's seamers Stuart Broad, James Anderson and Stokes to all corners of the ground.
Clarke's ton was his second in two tests and the 32-year-old now boasts a peerless record of two double-centuries, four tons and three 50s from his last nine matches at Adelaide Oval, with a high score of 230 against South Africa a year ago.
Clarke, who drove Australia into a dominant position with a century at the Gabba in the opening test, brought up his 26th test ton by working Stokes off his pads for two runs through square leg.
He tore off his helmet, kissed the insignia and raised his arms aloft in triumph as a big crowd at Adelaide Oval roared their approval.
Yesterday's play
Trailing 1-0 in the five-test series, England could do little about the coin-toss, but will rue some poor fielding late in the day, with three dropped catches letting Australia off the hook.
The third, a regulation chance spilled by two-test opener Michael Carberry at backward point, spared Brad Haddin in the third-last over and the wicketkeeper survived to stumps on seven not out with Australia captain Michael Clarke on 48.
"I think it's a fairly even day," spinner Graeme Swann, who took a sharp catch at backward square leg to remove George Bailey on 53, told reporters.
"Having lost the toss at Adelaide you always fear the worst as a bowler but I think five wickets in a day is a pretty good return.
"Obviously six or seven would have been a lot better. We missed a couple of half-chances that we'll rue but if we turn up in the morning and take a couple of quick wickets, it could all quickly be forgotten."
Blessed to bat first on a gentle Adelaide Oval wicket, Australia failed to cash in with four of their five batsmen throwing away their wickets after making promising starts.
In the final hour's play, Bailey was the third to score a half-century, his maiden in his second test, but will regret flashing at a Stuart Broad delivery that ended up in a leaping Swann's sure hands.
Like Chris Rogers (72) and Shane Watson (51) before him, the one-day
specialist Bailey was on top of the England bowlers and had carted recalled spinner Monty Panesar for two sixes over his head and Broad for a third over the square boundary.
The England selectors' decision to pick a second spinner was validated as Swann and Panesar gleaned some encouraging turn from a flat deck that offered little for seamers Broad and James Anderson.
Captain Alastair Cook may rue the loss of a second straight toss with the wicket likely to break up later in the match, however.
DROPPED CATCHES
He would certainly have bemoaned the dropped catches that would have seen both Clarke and Bailey trudge back to the dressing room and expose Australia's tail.
Panesar spilled a knee-high chance off his own bowling in the seventh over after lunch, granting Bailey a life on 10.
Clarke was then dropped on 18, with a diving Joe Root unable to bring down a flick to mid-wicket from the Australian captain off Swann.
England's task could have been yet steeper, however, with Australia having cruised to 155-1 midway through the second session before Watson maintained his habit of failing to convert starts by spooning a catch back to bowler Anderson.
That ended a 121-run partnership with Rogers and sparked a collapse as Australia lost three wickets for 19 runs before stumbling to 174-4 at tea.
Rogers was caught behind by Matt Prior for 72 off his Ashes nemesis Swann the over after Watson's departure and Panesar bowled all-rounder Steven Smith for six.
The quick wickets breathed life into a meandering contest which started with three rain interruptions which cut an hour's play in the morning at the re-developing stadium.
Opener David Warner was also culpable for an unnecessary dismissal, giving up a simple catch to Carberry at point for 29 in the morning.
"(The pitch) is hard to judge," Rogers told reporters.
"We probably expected at one stage 500-plus (as a par score) but the way it started to play tricks and even spun toward the back end of the day, I think if we can get 400 then we'll be right in the game and probably have enough runs to create enough chances."
New Zealand-born all-rounder Ben Stokes was handed his first test cap by former England captain Andrew Strauss before the toss, and finished with 0-26 off his eight overs.
Scoreeboard
 Australia first innings (overnight 273-5)
C. Rogers c Prior b Swann                               72
D. Warner c Carberry b Broad                       29
S. Watson c & b Anderson                                51
M. Clarke not out                                               109
S. Smith b Panesar                                               6
G. Bailey c Swann b Broad                              53
B. Haddin not out                                              57
Extras (b-8, nb-4)                                                 7
 Total (for five wickets, 120 overs)     273
Still to bat: M. Johnson, P. Siddle, R. Harris, N. Lyon
Fall of wickets: 1-34 2-155 3-155 4-174 5-257
Bowling (to date): Anderson 26-9-75-1 (nb-1), Broad 22-3-72-2, Swann 28-3-91-1, M. Panesar 31-5-98-1, Stokes 13-2-45-0 (nb-3)
England: A. Cook, M. Carberry, J. Root, K. Pietersen, I. Bell, M. Prior, B. Stokes, S. Broad, G. Swann, J. Anderson, M. Panesar
Around the Web