Appointed coach of the Guyana Cycling Federation, former national rider, Dwayne Gibbs winged out to Los Angeles, California on Sunday to sit a High Level Technical Exam.
Gibbs' trip was sponsored by the Pan American Olympic Solidarity Committee (PAOSC) and will encompass BMX training as well as the general aspects of cycling.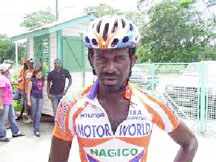 Successfully completing the course will see Gibbs, a level two coach earning a diploma certificate which will be signed by the presidents of the PAOSC and the National Olympic Committee of the United States of America.
The National Coach of the Federation who has been instrumental in the development of several of the nation's top wheelsmen, especially riders from the national team, is scheduled to return this Sunday.
Gibbs, who was elected National Cycling Coach by the GCF in late September, coached the national team on sojourns to Suriname (Bigi Bergi) and Curacao (Caribbean Cycling Championships).
Around the Web