An abandoned first day of play at Everest and a decent start by Essequibo at the Enmore ground highlighted an eventful first day of the Guyana Cricket Board (GCB) senior Inter-County four-day tournament which bowled off yesterday.
Over at the Everest Cricket ground, Berbice were set to take on the GCB President's XI, however rain soaked most of the ground and pitch, causing Umpires Imran Moakan, Patrick Garnath and Gyananand Sookdeo to deem it unfit for play following their final inspection at 3.00pm.
At the Enmore Community Centre ground, mother nature was a bit kinder and this allowed the first ball to be bowled at 2.35pm along with a quota of 36 overs, despite a soggy outfield.
Essequibo, asked to bat first, reached a decent first day's score of 101 for 3 at stumps in their encounter with defending champions Demerara. A vital half-century partnership between openers Royan Fredricks (29) and Kevon Boodie (32) laid the foundation for a decent first innings score.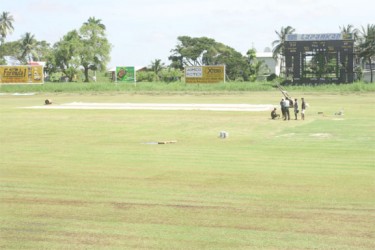 As expected, the Demerara slow bowlers capitalized on the moisture and sluggishness in the pitch which rewarded leg spinner Amir Khan with the scalp of Fredricks and all-rounder Zaheer Mohamed with Boodie's. Khan also removed batsman Ricardo Peters (13) leaving the Essequibians with three of their big guns back in the shed.
At stumps, the pair of Dillon Heyliger (15) and all-rounder Kemo Paul (7) were left unbeaten. Khan was the pick of the bowlers ending with first day figures of 2 for 24 and Mohamed 1 for 16.
Meanwhile the coaches of the GCB President's XI and Berbice spoke to Stabroek Sport about the mood in their team's camp following the abandoned first day at the Everest cricket ground.
Coach of the Berbice team Hubern Evans, said that his team was disappointed with the washed out first day, however he noted that their spirits were still high. When Stabroek Sport contacted Evans, he and his team were running a net session at the LBI indoor facility; this he said was a good way to keep the players focused.
President's XI coach Julian Moore said his guys were still "upbeat" and "eager to go out and perform." He observed that with a wealth of first-class players in his squad, many of them are aiming to put out good showings which will place them in contention for a Guyana selection. Moore added that the team's aim is to win the tournament, but for now his sights are optimistically set on having full play for the remaining three days.
Guyana Telephone and Telegraph Company and Hand-in-Hand Insurance Company are co-sponsoring the tournament.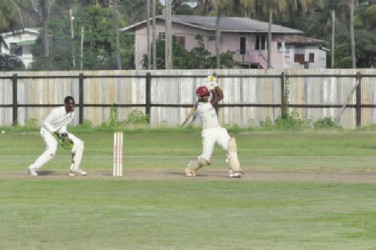 Around the Web