ADELAIDE, (Reuters) – Michael Clarke's stylish 148 on day two of the second Ashes test against England yesterday was another glorious consummation of his love affair with Adelaide Oval, and moved his deputy Brad Haddin to rate him the world's best batsman.
The pair shared a record sixth-wicket partnership of 200 at the re-developing ground to drive Australia to a mammoth declaration of 570-9 before firebrand paceman Mitchell Johnson captured the key wicket of captain Alastair Cook after tea to leave England a shaky 35-1 at stumps.
The 32-year-old Clarke has now scored four tons from his nine tests in Adelaide, not including two further double-centuries and four 50s to average a brilliant 104.75 and it was almost a shock to the crowd of 35,000 when he miscued a drive to be caught after lunch.
The crowd rose as one to give Clarke a standing ovation, however, and vice captain Haddin continued the tributes later after blasting his own way to 118.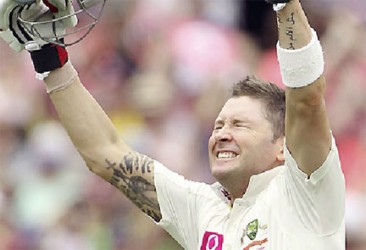 "I think so. You can definitely make a good argument for it," the hard-bitten wicketkeeper told reporters when asked if Clarke was the world's best batsman.
"Once he gets past 20, he seems to go on and get some really big hundreds. His form over the last two years has been as good as anyone in the world. It's been good to watch.
"I think you've seen since Michael's taken over (as captain), his batting's gone to another level.
"We know he's such a good player of spin bowling, he's so quick on his feet.
Haddin and Clarke put on 116 in the first session to take the game away from England, with the keeper riding his luck at times, surviving a caught behind dismissal on 51 when bowler Ben Stokes overstepped his mark.
JUST A GAME
In typically belligerent fashion, the 36-year-old Haddin did not bother with poking singles and twos with his fourth test century in reach, and after getting to 80, brought up the milestone by blasting a six and four fours.
Haddin lost his place in the Australian team to Matthew Wade last year when he had to leave the tour of the Caribbean to attend to his sick daughter.
He was recalled ahead of the first Ashes series this year as Australia sought to toughen up their brittle batting order, and has been in top form at the crease this series, resurrecting his team's first innings in the opening test in Brisbane with a 94 and scoring 53 in the second.
"It showed me cricket was just a game," Haddin said of his family troubles last year.
"I'm pretty lucky I didn't score that 100 up at Brisbane when all my kids were there so I'm pretty relieved I got it here when they're not here.
"I think it's the state of mind," he added of his form.
"I'm pretty comfortable with where my game's at the moment. I'm enjoying being a part of this team moving forward and just enjoying my cricket."
Haddin also enjoyed keeping to Johnson as the in-form paceman hurled down 150 kph (93 mph) missiles that thumped into his gloves. One struck number three batsman Joe Root on the chest and a number whistled past opener Michael Carberry's ears.
"It's good fun," Haddin said. "My worst part of the week is the seven minutes having to face him in the nets."
Around the Web