(The Sports Xchange) – Highlights of Thursday's National Basketball Association games.
– – –
Bulls 107, Heat 87
Forward Carlos Boozer scored 27 points as Chicago rolled to a 107-87 victory over Miami.
No matter the circumstances, the Chicago Bulls tend to rise to the occasion in the regular season against the Heat (14-5).
Guard Derrick Rose is sidelined following knee surgery, but the Bulls (8-9) now own five wins over the Heat without Rose during the past three seasons.
Miami was missing guard Dwyane Wade (illness) and forward Chris Andersen (personal reasons).
Forward LeBron James led Miami with 21 points.
– – –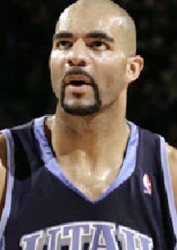 Clippers 101, Grizzlies 81
The Los Angeles Clippers got 50 points from their reserves and defeated the Memphis Grizzlies 101-81.
Guards Jamal Crawford and Darren Collison led the bench brigade with 15 points each. Reserve forward Antawn Jamison finished with 11, and rookie guard Reggie Bullock had nine.
Among the Clippers' starters, point guard Chris Paul had 15 points and eight assists; forward Blake Griffin finished with 14 points, nine rebounds and five assists, and center DeAndre Jordan scored 10 points and grabbed 14 rebounds.
Memphis dropped to 9-9 while the Clippers improved to 13-7.
– – –
Knicks 113, Nets 83
In a battle between two hapless neighboring basketball teams, the New York Knicks ended their nine-game losing streak in decisive fashion with a 113-83 win over the Brooklyn Nets.
Leading a balanced scoring attack, forward Carmelo Anthony recorded 19 points and 10 rebounds despite sitting out a majority of the fourth quarter. Four other Knicks scored in double figures.
Around the Web