Guyana's first female world boxing champion, Gwendolyn 'Stealth Bomber' O'Neil is looking forward to a productive New Year but at the same time mourning the death of an icon and one of her biggest influences, Nelson Mandela whom she met in 2007.
"I am looking forward to a productive and active 2014," O'Neil told Stabroek Sport in a telephone interview from her training base in New York yesterday "I'm excited about my new management team and I will be defending my world heavyweight titles in 2014 against all the top
contenders but at the same time I am saddened by the passing of Mr Mandela.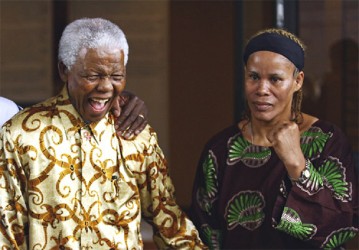 "I would like to extend my condolences to Nelson Mandela's entire family. The world has lost a compassionate, loving and very forgiving man who cared about all peoples of the world regardless of race or religion. I'm happy for the inspiration of meeting Mandela and his legacy of defending the rights of the poor and the oppressed."
In January 2007, the world stood still for O'Neil as she came face to face with two of the biggest influences in her life, Mandela and Muhammad Ali, by way of his daughter, Laila Ali, her opponent for the February 3, 2007 WBC and WIBA super middleweight title fight.
"I was so nervous about meeting this man, Mandela, who had sacrificed his freedom for 27 years to see his people in South Africa free and the unjust apartheid system dismantled. He immediately made me feel comfortable because he was so humble even though he was this great powerful leader." He told me 'May the best woman win and I wish both you and Laila good luck.'
"I wish my fellow Guyanese a prosperous and happy new year and look forward to your continued support. God and the universe have blessed me with this boxing talent and love".
To many, Mandela who passed away at the age of 95 on December 5 is an icon. The revered human rights champion best known for dismantling the legacy of apartheid through tackling institutionalized racism, poverty and inequality, fostered racial reconciliation in his native South Africa. (Emmerson Campbell)
Around the Web