(Trinidad Express) Former top Trinidad and Tobago-born sprinter Emmanuel Mc Donald Bailey has died.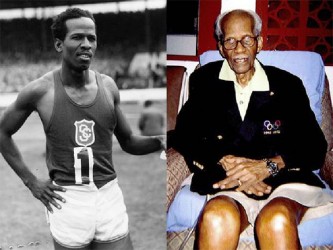 Bailey, who would have been 93 today, died peacefully on Wednesday night with his family at his side.
Bailey was born on December 8, 1920, and his biggest international achievement was as an Olympic bronze medallist in the Men's 100 metres event, earned at the Helsinki Olympics in 1952.
In 1946, he created history by winning both the 100 and 220 yards at the British Open Amateur Athletics Association (AAA) Championships and amassing 15 AAA national titles, including seven sprint doubles and one relay between 1946 and 1953.
Bailey is the only Trinidad and Tobago athlete to appear in the Guinness Book of World Records from its inception, for holding the greatest number of national athletics titles.
Bailey is also the only Trinidadian sprinter to hold a world record in the 100m (10.2 seconds), which he blazed in Belgrade, Yugoslavia in 1951, and which stood until 1956.
Bailey held the British All Comers record for the 100 yards (9.6) as well as the European 100 metres mark (10.20) between 1946 -1953.
On his return to Trinidad in 1963, Bailey worked at both the National Energy Corporation (NEC), as well as the Shell Oil Company. But he continued to be involved in athletics and was the coach of the outstanding Trinidad and Tobago track team that won three medals at the 1964 Olympic Games in Tokyo.
Bailey was awarded the Chaconia Gold Medal in 1977 in recognition of his contribution to sport.
He was an associate member of the Institute of Journalists, London, and worked for the BBC during the Olympic Games in Rome in 1960, and the 1970 Commonwealth Games in Edinburgh.
Around the Web