MADRID,  (Reuters) – Spain captain Iker Casillas has said he finds it strange that the format of the draw for the World Cup finals allowed the holders to be placed in the same group as Netherlands, the team they beat in the final in 2010.
Spain, who will play the Dutch in their opening Group B match in Salvador on June 13, were one of eight seeded teams in pot one for Friday's draw, while Netherlands were in pot four along with eight other non-seeded European sides. The seeds were decided based on the October FIFA rankings and as well as Spain included hosts Brazil, Germany, Argentina, Colombia, Belgium, Switzerland and Uruguay.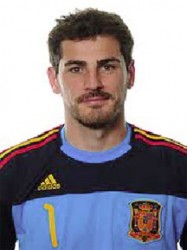 Casillas told a news conference organised by his club Real Madrid to discuss the draw he agreed that it was odd that the champions would have to play the nation they beat in the previous final in their first match.
They go on to meet Group B rivals Chile in Rio de Janeiro on June 18 and Australia in Curitiba five days later.
"Sometimes it is hard to understand very well the way draw is done," Casillas said.
Around the Web