ADELAIDE, (Reuters) – Under-pressure Alastair Cook called on his demoralised England team to search their "souls" after their second straight Ashes test defeat to Australia yesterday, with the skipper among those conducting the deepest introspection.
England's final four wickets fell within an hour's play on the fifth day at Adelaide Oval, the 218-run defeat completed in cold and gloomy conditions and leaving the tourists 2-0 down in the five-test series ahead of their most challenging match in Perth.
Few pundits are likely to give England any chance of winning at the WACA, where they haven't beaten Australia in a test since 1978.
As holders, England need only level the series 2-2 to retain the Ashes, but Cook has only three full days to repair his team's battered self-belief after they were comprehensively outpointed in all aspects of the game in both Brisbane and Adelaide.
As in Brisbane, England's batsmen were the most culpable, their first innings 172 in response to Australia's 570-9 declared leaving their bowlers on a hiding to nothing.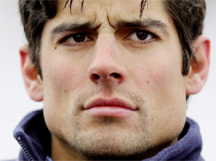 Despite their task, England's bowlers failed to extract anywhere near the same venom from Adelaide Oval's drop-in wicket as the hosts, while the tourists' fielding was often abysmal, with dropped catches ultimately costing hundreds of runs.
"In this game on a good first inning wicket we created some chances and we didn't take those chances," Cook told reporters.
"I think Australia have been very clinical in taking every chance that has come to them. We let them off the hook and they punished us very heavily to get to 570.
"And quite clearly getting bowled out for 170 wasn't good enough. And there was some poor shots in there as well.
"We can't sit there moping around about it. It's hurting us like hell but we're the only guys who can change it.
"Self-belief is certainly an issue you've got to make sure you look after when you've lost heavily in two games. But if we don't believe it then no one else is going to. "We've got to look right deep into our souls, into our hearts and turn it around."
Cook conceded that berating his team mates for their hazardous shot selections would be hard with his own form in the doldrums.
After scores of 13 and 65 in Brisbane, Cook was bowled for three by a searing delivery from Mitchell Johnson in the first innings. The manner of his second innings dismissal, however, holing out for one when trying to hook the same bowler when his team desperately needed a captain's knock, has raised questions about his mental state and susceptibility to extreme pace.
Cook was Australia's chief tormentor in the 2010-11 Ashes series under captain Andrew Strauss, scoring 766 runs in his seven innings to help set up England's first win Down Under in a quarter of a century.
But his form has waned as captain against Australia, and he managed only a top score of 62 in his team's 3-0 triumph in the Ashes series at home earlier this year.
"I need to score more runs, simple deal," he said.
"We all do, but there's only so many times you can keep telling the lads to do it and if you're not delivering it makes it harder.
"I'm there at the top of the order as a batter. These last two games I haven't been scoring enough runs. I need to go and change that.
"There are some very tough moments as a captain and we're in the middle of it."
Around the Web