Canadian football star of Guyanese parentage, Dwayne DeRosario along with Gareth Nelson will be in Guyana from December 21 to 24 to witness the Chico/Kashif & Shanghai (K&S) Secondary Schools Football Tournament.
While in the land of his parents, DeRosario will also meet with football officials, players and the general public who will have photo opportunities with the star player.
DeRosario is a four-time Canadian footballer of the year and has an outstanding resume which includes: Toronto FC player of the year (2009), MLS Most Valuable Player of the year (2011), MLC Cup MVP (2001 & 2007), MLS Goal of the year (2004 & 2005), MLS Golden Boot 2011 and he has made the MLS Best XI in 2005, 2006, 2007, 2009, 2010 & 2011.
With a career spanning in excess of 14 years, DeRosario is looking forward to pressing on with the Canadian National Team.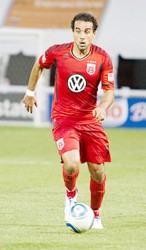 Nelson got started with Guyana Football in 2000 when he took Kayode McKinnon to Spain for a tryout, then in 2001 with Randolph Jerome and Charles Pollard to the USA.
In 2002 he wrote a biography on McKinnon which can be found in the Linden library. He also secured 2nd division contracts in the USA for Nigel Codrington, Pollard, Jerome, Shaun Cameron, Kevin Beaton and an MLS contract for Gregory Richardson in 2004.
Nelson then introduced Beach Soccer to Guyana and formed the Beach Soccer Football Association. While in Guyana, DeRosario and Nelson will be at the Chico/K&S Secondary Schools games scheduled for December 22 at the MSC Ground Linden.
A full programme of activities for DeRosario and Nelson will be released by the K&S Organization shortly.
Around the Web