North Georgetown Secondary outgunned Patentia Secondary on penalties while Charlestown Secondary brushed aside Lodge Secondary 2-nil last night at the Georgetown Football Club (GFC) ground to clinch quarterfinal berths in the Chico/Kashif & Shanghai Elite Next Generation Football Tournament.
After forward, Joshua Ferrier put North Georgetown up in the 14th minute with a flat right footer to the far left corner, defender, Kenton Boyce scored the equalizer by dribbling all the way from midfield and sending a screamer from just inside the 18-yard box that eluded the opposition's outstretched custodian.
The remainder of the scrappy game was mostly played in the midfield as both sides failed to string together passes and penetrate the opposition's defence.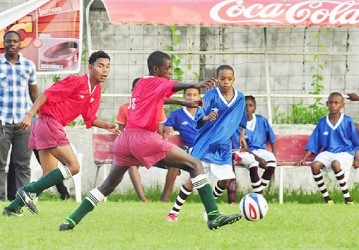 With the scores knotted at one goal apiece after 90+ minutes, the game was decided with spot kicks.
Following a marathon penalty shootout which was riddled with misses, North Georgetown Secondary prevailed 4-3, much to the delight of the pro North Georgetown crowd.
In the second fixture which was also scrappy, Shane Morris buried a penalty kick in the fifth minute after Daquan Husbands was fouled inside the box. Lodge's problems were further compounded when Jaleel Evans padded the score from just outside the 18-yard square in the 74th minute after using some nifty footwork to elude two defenders.
In the quarterfinal round, North Georgetown Secondary will take on first runner up of the Digicel's Nationwide School's Tournament, Waramadong on December 21 while Charlestown Secondary will lock horns with Dolphin Secondary on the same day at GFC.
The under-17 tournament for secondary institutions continues tomorrow at the Den Amstel ground from 16:00hrs.
President's College will tackle Stewartville Secondary, while Uitvlugt Secondary will take on Annandale Secondary two hours later.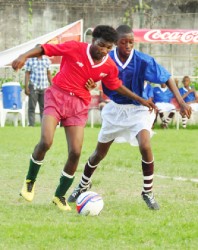 Up to the semifinals, all school-aged children will be admitted free to each game.
The winner of the tournament will pocket a record $1.2M in cash of which 75% will go towards a project identified by the school.
They will also receive a trophy and 25 replicas along with the prize money.
The institutions placing second, third and fourth will each receive prize monies amounting to $750,000, $500,000 and $250,000, in cash respectively.
The second and third place teams will receive trophies and 25 silver and bronze medals respectively, while the fourth place team will receive a trophy.
As customary, the grand finale will be staged on January 1 at the Providence National Stadium. (Emmerson Campbell)
Comments

Guyana Amazon Warriors left a packed house heartbroken after folding to the Jamaican Tallawahs by two runs in a thrilling final over, as they began their home leg of this year's Caribbean Premier league (CPL) with a school boyish display, last evening at the Guyana National Stadium, Providence.

DUBAI, England, CMC – Reigning champions West Indies Under-19s will be part of history, when they kick off their title defence of the ICC Youth World Cup (YWC) against hosts New Zealand Under-19s.

Guyana ended their Group-F campaign in the CONCACAF Boys U15 Championship on a winning note, edging St.

BIRMINGHAM, England, CMC – A day that started brightly ended in typical uncertainty for West Indies, after Alastair Cook and Joe Root plundered hundreds to give England an early hold on the historic first Test on Thursday.
BASSETERRE, St. Kitts, CMC – A strong all-round performance from Javeor Royal propelled Jamaica Under-19s to a four-wicket victory over ICC Americas Under-19s in the Regional One-day youth tournament on Thursday.