After graduating at the top of his class following the near three-month long International Coaching Course in Hungary, boxing coach, Sebert Blake has returned to Guyana armed with top shelf knowledge of the fistic sport.
So what did Blake learn?
"I have learnt so much, I am back with a whole host of experiences," Blake told Stabroek Sport yesterday.
According to the head coach of the Forgotten Youth Foundation, he did practical and theoretical examinations in the subject areas of general conditioning, sport pedagogy, sport physiology, sport sociology, sport theory and training theory and passed with full marks during the course which was held five days per week at the Semmelweis University in the capital, Budapest.
With his improved knowledge of training, Blake, who has coached notable boxers like Shondell 'Mystery Lady' Alfred, Simeon 'Candy Man' Hardy, Jermaine King and Laured 'Nightmare' Stewart told this publication that…."given the opportunity I would like to make some changes in the way we prepare our fighters for national fights and championships."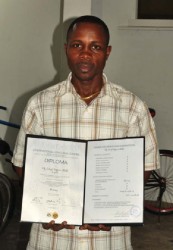 Blake, who did a study report on modern boxing training explained:"We need to be more familiar with anaerobic and aerobic training which is the pathway of strengthening athletes and most times in Guyana we may do a little anaerobic work but mostly aerobics which is not good enough for boxing because boxing is 80% anaerobic so I would like to see our boxers focus more on that part of it."
He continued "I observed whenever we (Guyanese boxers) go to championships, they would win the first round but after the pace picks up because they haven't trained to fight against that lactic acid you would find them tiring and losing the fight in the latter stages."
"I would like to sit with the other coaches and work out a programme and experiment and hopefully get better results," Blake added.
The level two coach also told this publication that since he has earned the International Coaching Course Diploma he will be elevated to level three once the Guyana Boxing Association (GBA) and the Guyana Olympic Association (GOA) submits the necessary information and reports to the International Boxing Association (AIBA).
Blake, who left Guyana on September 26 and returned December 10, thanked his family, executive members of the GBA, president of the GOA, K Juman-Yassin, and his place of employment, GPL.
Around the Web