GEORGETOWN, Guyana, CMC – Guyanese off-spinning all-rounder Steven Jacobs is tipped to lead the Combined Campuses and Colleges (CCC) in the 2014 NAGICO Super50 Regional Tournament, according to media reports.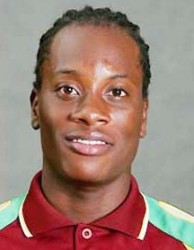 The Guyana Chronicle quoted an official of the Guyana Cricket Board (GCB) as saying that a request has been made for Jacobs' release, pending his decision.
"A request was made from CCC to the GCB, for Jacobs to be released to lead that side in the NAGICO Super50 and same was granted, only after our Chairman of Selectors sat down and held a discussion with Jacobs, who had the final decision to make," the paper quoted GCB's Secretary Anand Sanasie, who is a director of the West Indies Cricket Board (WICB).
"Out of that discussion, it was noted that should Jacobs, who is currently undergoing studies at the Cave Hill, St Michael Barbados-based University of the West Indies, decide to take up the offer from the CCC which he later did, he will have the full backing of the GCB."
"In that discussion, it was highlighted to Jacobs the positives (deriving out of) his leading the CCC can have on his cricketing profile as well as his leadership skills and we at the GCB do not have any intentions of denying any player under our jurisdiction, the right to have upward mobility in the sport, hence we consented to the request from the CCC, while giving Jacobs our full backing," said Sanasie.
Jacobs, who made his first-class debut for Guyana against Windward Islands in Grenada during the Carib Beer Cup in 2006, has played 14 matches, scoring 420 runs at an average of 18.26 and with a topscore of 75, while he has taken 28 wickets at an average of 33.46, with his best returns being 4 for 61 against Jamaica last April, when Guyana faced that team in the WICB Regional four-day tournament at the Guyana National Stadium.
He also captained the West Indies Under-19s in the 2007-08 Kentucky Fried Chicken(KFC) Cup.
Comments

LONDON, CMC – West Indies will go head-to-head with nemesis Ireland in their quest reach the International Cricket Council (ICC) 2019 Cricket World Cup, after being installed in Group A of the World Cup qualifiers in Zimbabwe starting in March.

BRIDGETOWN, Barbados, CMC – West Indies captain Jason Holder says planning has already begun for the International Cricket Council (ICC) World Cup qualifiers in March as the Caribbean side looks to book its spot in the 2019 one-day showpiece in England.

National lightweight champion, Dexter 'Cobra' Gonsalves will look to shake off some rust when he returns to the ring Saturday night at the Cliff Anderson Sports Hall on the 'Bad Blood' card.

With his historic 2017 campaign officially in the rear view mirror, star athlete Daniel Williams and his coach, Johnny Gravesande have their sights set on an even better 2018 season.

A High Court judge has granted an interim injunction restraining the TT Table Tennis Association (TTTTA) from taking any further action pursuant to its decision to select players Aaron Wilson and Yuvraaj Dookram for the Commonwealth Games.