Story and photos by Shabna Ullah
No 3 Village or Mon Choisi, West Coast Berbice is quite small with a population of just over 200, but it is buzzing with economic activity and is quite popular for its large-scale honey production.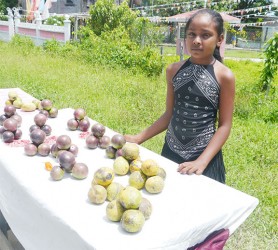 Residents also earn their living from rice and cash crop farming as well as vending, while some operate small businesses like groceries, block-making and vulcanizing. Others are employed in New Amsterdam and elsewhere, including the Blairmont Sugar Estate as labourers.
It is a predominantly Indian community and has a mosque, Christian church and a Hindu temple where persons from the three main religions worship.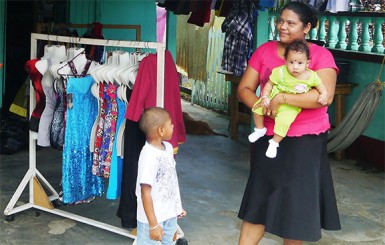 Residents said the village was always "peaceful and quiet" until a woman moved into it and disturbed persons living nearby with her loud expletives.
"She would be cursing in her house at any hour during the night and early in the mornings and when we try to talk to her she would curse us too. We have small kids around…"
Ravi Rajkumar, 36, a third generation beekeeper, operates the Rajkumar Honey Works & Apiary – 'Nature's Own Food.'
His father, the late Rabbie Rajkumar, learnt the trade from his father and passed it on to him.
Ravi worked along with his father and upgraded his skills in the job by doing a lot of reading and researching. With the knowledge he gained he was able to better manage his two apiaries. One of these is located at Laluni on the Linden Highway where the bees feed on wild flowers and the other at Fort Wellington, WCB where they feed on the mangroves.
Honey production is "seasonal and depends on the blossoming of the trees," explains Ravi. He has two permanent staff managing the bees in the field, but the extracting and bottling of the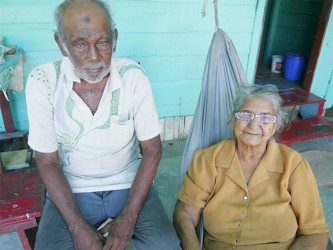 honey is done by family members.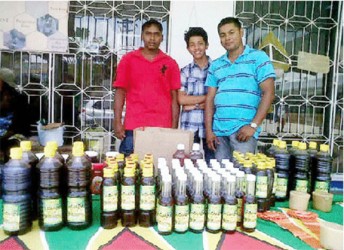 He said too that the apiaries have to be away from farming areas because they can be easily disturbed by agricultural machinery.
He has one of the largest operations in the country and there is always a demand for his product which he markets locally as well as exporting to the Caribbean, mainly Barbados and St Kitts.
The honey is also sold in retail quantities, and to other honey producers who purchase in bulk and bottle under a different name.
Ravi related that "all honey is pure. It's a natural product because it is not manufactured. Honey cannot be mixed or it would ferment and would not have shelf life."  He noted though that "pure honey can crystallize because it is a super saturated solution made up of three sugars. Crystals would form when one the sugars separates itself." To avoid that, honey should never be stored in a refrigerator. The crystals can be gotten rid of by placing the bottle with the product in warm water.
He advises consumers to "purchase honey from a beekeeper or source they can trust" because they can be deceived with high fructose corn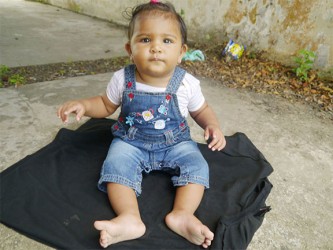 syrup that is smuggled from Brazil.
His sister, Ramona Rajkumar who is married and lives separately with her family is still involved in the business. "It is only me and my brother," she related. "And this is a family business so I have to be involved."

The mother of two who was preparing to go on a business trip to Georgetown assists with the "uncapping of the honey, bottling and labelling." Ramona also operates a block-making business in the village.
Across the road, Savita Rajkumar, was busy displaying the clothing she sells. Her niece and nephew who had come to visit were keeping her company. She is operating the business at her father's place until her new home that is under construction, is completed. She also vends her wares at the Rosignol market on Saturdays.
Her father, Visvanauth Rajkumar, Ravi's uncle, who has lived all his life in the village has been in the honey business "since he was a little boy." A second generation beekeeper, he learnt the trade from his father, Naipaul Rajkumar. His apiary is located close to the seaside in the village.
Nearby, Fazia Sooklall, a weekly vendor at the Rosignol market had lined her pumpkins up on a table. She had purchased them from a farmer to sell at the market. She also displayed cherries she reaped from her yard.
Rakesh Jaglall, 40, earns his living as a cash crop farmer and had just reaped a quantity of cucumbers from his backyard. The father of three sells them to hucksters. He would also plant tomatoes and watermelon on a large-scale and was waiting on "good weather" before he reinvests.  He supplements his income by working as a labourer with rice farmers.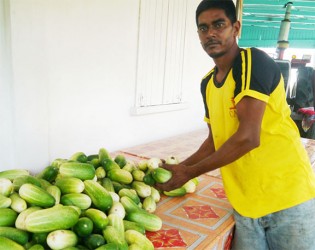 Jaglall has gained so much experience in rice farming that he decided to "get involved" in the business and has already invested in a tractor.

Across the road, Ramnarine Persaud, 59, was taking a mid-morning drink. He works as a "water-fetcher" at the Blairmont Sugar Estate but had not gone to work because the workers had called a strike over payment. He started out at the estate as a cane-cutter, a job he did for 35 years.
According to him, cane-cutting is the hardest work at the estate.
Although he starts his day from 4 am and works long hours some days, he still makes time to assist his son with his kitchen garden.
Edmond Bacchus, 84, was sitting in a chair chatting with his wife, Nazmoon, 79, as she rested in a hammock under the house. Their granddaughter, 15-year-old, Deepa Devi who started living with them last year was enjoying pickled mangoes.
Bacchus moved to the area from Sisters' Village after getting married 50 years ago. He found it convenient as he was working with the Transport & Harbours Department as a labourer with contractors. He also worked at JP Santos. He keeps himself active by planting a small kitchen garden. He also reaps fruits like mangoes, star-apples and sapodillas from his yard when they are in season and sells them. Apart from that he cleans the yard and keeps it tidy and chops wood for his wife to use for cooking on her fireside.
Nazmoon was born in the village and lived all her life there. She remembered that it was always a quiet village and that residents never had problems with petty thieves as they do now at times.
She recalled that one evening over a year ago she and Bacchus were relaxing in the upper flat when two women rapped on the door and said they had brought a message. They were allowed into the house and while chatting one of them asked for some water and Nazmoon got it for her. But the woman did not drink the water. She grabbed Nazmoon, who was recovering from eye surgery, and started to choke her, pull her hair and hit her. The other woman also attacked Bacchus who shouted "thief!" The perpetrators then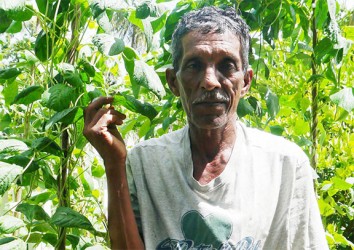 ran out of the house and escaped.
Nazmoon's eyes were not able to heal properly and have started to affect her again. The women never really said what they wanted but she felt that they must have seen her wearing her gold jewellery just before the surgery.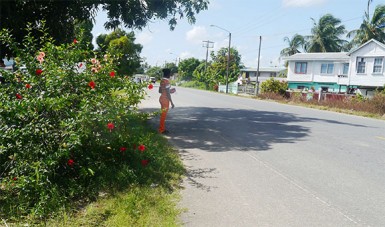 The elderly couple was disappointed that even though they recognized one of the women who had lived in the village, the police still did not take the investigations further.
Around the Web