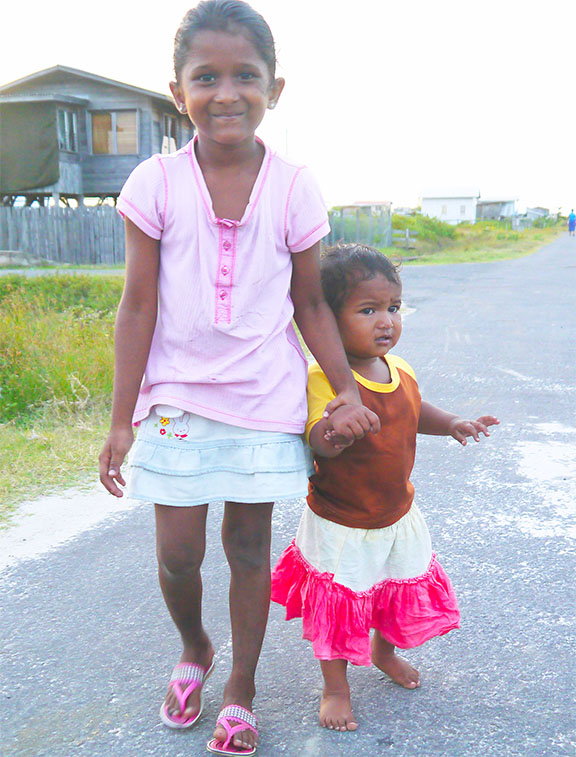 Bath Settlement, West Coast Berbice, a well-populated community has seen considerable development over the years with the establishment of several large-scale businesses and a new housing scheme in one section.  An elderly resident, pleased with the transformation of the village, recalled that at one time persons were poor and struggled to make ends meet with many working at the sugar estate and as farmers and fishers.
The sugar estate still serves as the main form of livelihood for many people, but there are others who work as teachers, photographers, accountants, clerks, sales persons, mechanics and a doctor, among other professions.
Bath Settlement is also popular for its large-scale eschallot farming, and because of its rich soil almost every resident plants a small portion in their yards. Some also operate kitchen gardens and some engage in poultry businesses and fishing.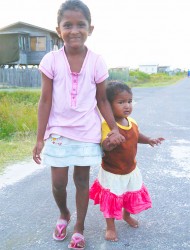 Bridglall Deolall, 57, a large scale eschallot farmer proudly showed off his farm that sprawled around his yard.  He sells his produce to middlemen in wholesale quantities, and will soon start planting English tomatoes. He has no problem with his crop and said agricultural officers would visit his farm at times and offer advice on best farming practices.
He worked at the sugar estate for 30 years and even during that time he planted eschallot to supplement his income. He then decided to leave the job and make a bigger investment.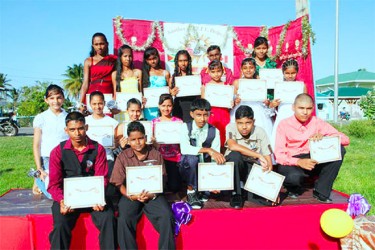 Persons from around West Berbice would visit the village to make purchases at the various commercial enterprises like the hardware, general and furniture stores, lumber yard, grocery stores, boutiques and the plant and chemical shops. They also benefit from other businesses like the taxi and car rental services, auto sales, barber shops and DVD clubs.
A Creole food business operated by Bibi Mohamed and her husband was established about three years ago and sells a variety of delicacies like curried chicken and puri, cassava and egg balls and phoularie.
There are a few Chinese restaurants in the village, but that does not affect local business as persons prefer the halaal food. They can also enjoy fresh cane juice as well as cherry juice.
Students attend the nursery and primary schools in Bath Settlement, and then move on to secondary school in areas like Rosignol, Bush Lot and Fort Wellington, or in New Amsterdam.
Residents worship at the mosque, Hindu temple and Christian churches in the village. They are distressed that some of the youths would spend most of their time using drugs and alcohol instead of engaging in positive activities. They were pleased though that most of the rum shops had closed down, and said that "for a big village there are only about three operating."
Persons used to be entertained at the popular Jyoti cinema but that was closed some time ago as the industry died. The building was sold and is being used for other purposes.
Aditya Kids Trust Fund Foundation
Located near the roadside is the Aditya Kids Trust Fund Foundation (AKTFF), a non-profit organization that has been helping underprivileged children with medical expenses. It has a staff of five.  It has also been involved in a number of other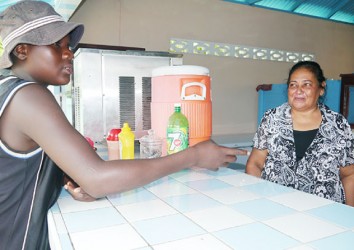 social relief activities and operates under the motto, "Investing in Our Future by Helping Kids."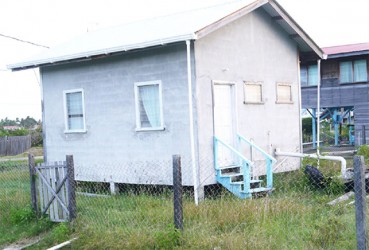 The organization is managed by the president, Archie Mohan and a board of directors including Premchand Punwassie, Tameshwar Harripersaud, Iqbal Rahaman and Nasir Ghanny of Ontario, Canada who hailed from various parts of Guyana. The organization raises funds mainly through donations and social events held in Canada, and uses the proceeds "to help the sick and less fortunate."
Among the children whose medical needs were provided for, was Ravi Dev Sain, who was about 10 when he was diagnosed with a brain tumour.  The organization also treated the boy and his mother with a free trip to Kaieteur Falls a few years ago. Ravi's condition has improved following treatment and he is now living a normal life.
Mohan noted that while many children were born into poverty that does not mean they should be denied the opportunity for a better life.
Apart from helping with medical expenses, the foundation also helps children with their education. It has established a library and resource centre and offers computer classes for all ages. Students writing the Grade Six and CSEC exams also benefit from free lessons.
This year the organization held a "successful summer school for adults and children. It ended with a graduation ceremony last week." The foundation has also hosted a yearly Santa parade since 2007 from Bush Lot to Ithaca, distributing toys and goodies to needy children.
Mohan was proud that during last year, the youth arm held a clean-up campaign around the area.
Leaps and bounds
Bademokie also known as 'Glory' who lived has lived in Bath Settlement all her life said her father was a carpenter and her mother a vegetable and provision vendor. They too were struggling and "couldn't afford luxuries."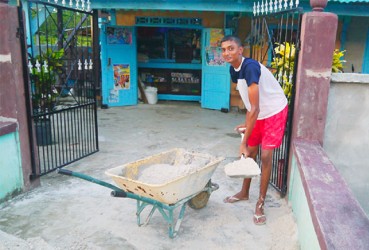 "Some children never knew about shoes and went to school barefoot. They put their books in plastic bags. They didn't have uniform and would wear their same clothes from home to go to school," she recalled.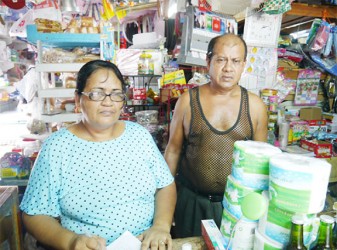 In her days growing up in the village too, the houses were smaller. Now, she said, "people develop by leaps and bounds." Many of the houses have been replaced by modern concrete and wooden buildings. In her youth she started a trading business in Suriname and Brazil and would "walk and sell' mostly footwear and clothing. She subsequently opened a small store. She noted that many of the residents have migrated and some have been helping poor families. Persons who could only afford to cook on firesides are now upgrading to gas stoves.
While residents were happy with the development that Bath Settlement has seen over the years they said there is still work that needs to be done. Most of the streets are in good condition but there are a few with potholes that need fixing while the parapets need cleaning. The villagers said too that although the drains were cleared they should be dug as well to take off the excess water during heavy rainfall.  They pointed as well to some of the street lights which have stopped working for a long time now and are not being fixed despite several complaints to the authorities.
The area also has a problem with noise nuisance where persons would play music loudly in their homes and others would blast it from vehicles by the roadside while consuming alcohol.
"They don't care about the elderly or respect them. They would play vulgar music from boom box."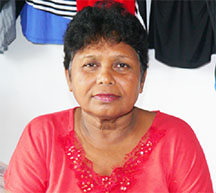 Residents said there are 'loan sharks' operating in the village who "lend money to others and would charge exorbitant interest rates ‒ $200 for every $1,000." This would result in fights, this newspaper was told, because the borrowers would sometimes refuse to repay knowing that the 'loan sharks' cannot take them to court.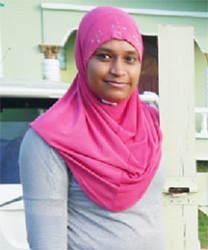 A resident, Mahendra Persaud, said he had been a cane harvester at the sugar estate and served as a workers' representative with the Guyana Agricultural & General Workers' Union (GAWU). However, recently GuySuCo "de-recognized him as a representative, saying that he has been instigating strike action. He vehemently denied that and said that he "stand with the workers."
Sham Umrigar, who operates a hardware, general and grocery store, was busy tending to customers when this newspaper visited. His wife, along with two workers was assisting. Sukhu who lived there all his life said he took over the business from his father.
Housing scheme
The housing scheme is located behind a section of the village and has grown to about 300 houses.  Andrew Rambarran moved into the scheme with his family in 2005 when there were only six houses. At the time too government had started to allocate house lots to squatters to get them off the reserves. The infrastructure was incomplete but residents were benefiting from water and they subsequently got electricity. Two years ago they started to enjoy good roads but there is a dire need for telephone services and street lights.
Located in the scheme too are 16 core houses that were constructed by the Central Housing & Planning Authority (CHPA) in June 2011. Beneficiaries of the houses were asked to make a contribution of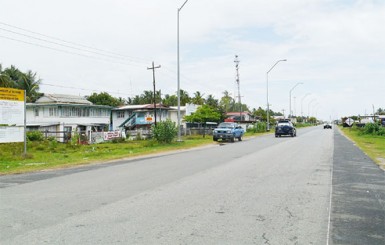 $100,000. Persons who could not afford their own homes were grateful to the CHPA for the opportunity. But according to other residents, not all of the houses are truly occupied and just about seven families are occupying them permanently.
"Some of the houses are rented out and some owners would just come and check the place at times and go away. That is not fair because many poor people want house and can't get."
Shaneeza Majeed is one of the persons who said she is not living in her own home and is sad to see that some of the houses are not being used.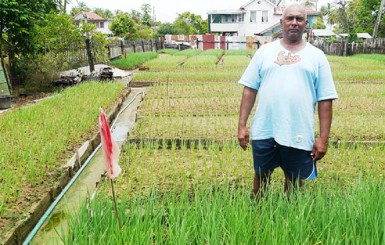 In another section of the scheme that was later developed, residents, especially vehicle owners, decry the deplorable condition of the road which is still to be pitched. The road is getting worse and during the rainy weather, it is almost impassable. Raffia Amidali said she too has a hard time traversing the streets with her vehicle and cannot wait for them to be fixed.
She moved to the scheme with her husband, Raymond who operates Bayah & Son Dental Works from their home. She said he specializes in dentures and gold caps and she would assist him in the business.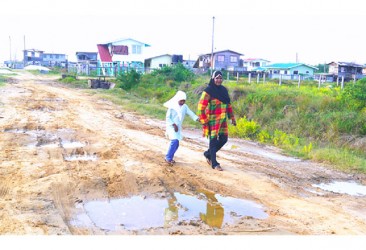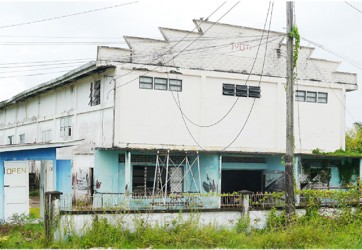 Around the Web