Story and photos by Tifaine Rutherford
Ask anyone about the famous silk cotton tree that is in the middle of the road at Perseverance, Mahaicony and you are sure to hear a myth or two. Often referred to as the 'jumbie tree' or 'Dutch man tree', what most people will tell you is that if one tries to cut it down, they will not succeed as the tree is full of spirits. They will also tell you that before the road was split in two, many people tried to cut it down but to no avail, hence the road was built around it.
At Perseverance, however, the 250 residents say that these are all stories from those who don't know anything about the tree,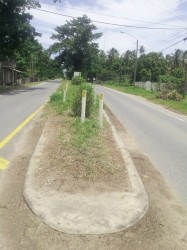 and someone who knows all about it was quick to share some history. This is Gavin D'Aguiar who planted the current tree in 1986, after the first one which was planted by his father decades ago fell down.
"A lot of people say that the tree has spirits, but this is not true. People say that the tree used to light up at Christmas time, but that is not true. Before we had electricity in the area, there was this guy who used to live over the road from the tree and he would run a drop cord over to the tree every Christmas and that is why people used to say the tree get spirits. A lot of people chop this tree, them men does even climb up and chop off them limbs because it does be hanging over the road, " he related.
Located between Cottage and Bushy Park in Mahaicony, Perseverance which residents say acquired its name after several former slaves came together and decided this was the only village where they could 'persevere', is a small community where most persons are involved in some sort of farming, be it rice or cash crops.
When this newspaper caught up with Gavin, he was chatting with some friends under the tree. There were a lot of accidents before the double road he said, and that is one of the reasons why reflectors were placed around the tree.
According to him, when he was a small child, he would pick up the cotton, take out the seeds and use it to make a soft pillow to sleep on. "That was the best pillow, we used to sleep sound and have nice dreams."
Like most of the other residents, D'Aguiar was proud when he spoke of the many sportsmen who came from the village. "We produced national and Test cricketers, also qualified West Indian umpires; I was one of those umpires. The Chairman of the West Indies selection panel Clive Butts and also cricketer Calvin Burnett came from here."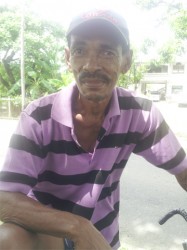 There is one shop in the small community to cater to the needs of the residents. Very young children attend the daycare in the village, while the school-age ones go to the Zeeland Primary School and Mahaicony Secondary. There is one Christian church in the community, and residents of other denominations or faiths go to neighbouring villages to worship.
This newspaper caught up with several members of the Perseverance Mash Committee who were preparing for their weekend sale. The women said that every year they try to raise funds for the Mash activities the following year. They said that the older and younger folks cannot afford to attend the activities in Georgetown, so they come together and try to make a little float and small costumes in the village. "Last year we had Slingshot so we had fun; right now we are preparing mannish water to sell to the villagers this weekend. Every other week we prepare something to raise the funds, last week we had shine rice," a member said.
While the village is small ‒ it only stretches for a hundred rods ‒ residents nevertheless have the benefit of the basic necessities for living. "We have everything here, can't complain. We have light, water and a good road. Only the roads on the dam are not really good."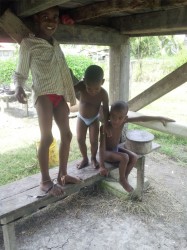 They also have no complaints about transportation. A short walk takes them to the public road where they can hail a Route 50 minibus or one of the many taxis plying the East Coast.
The Great Flood of 2005 wreaked havoc on the area, causing many farmers to lose their crops. "That flood really messed up down here. A lot of people lost their crops and livestock," recalled one resident.
While there have been no more inundations on that scale, drainage still poses a problem for many of the rice farmers, who say that they cannot do much farming because of the constant flooding. "When rain fall here does be soppy, soppy and you does can't get to do any farming," said one.
There is only petty crime in the village, residents said: "We don't get no big crime here. Them boys might thief a fowl or two, but nothing big." There is a community ground where children would often go and play cricket and other sports, but that needs to be looked after, the villagers said. The small community of mostly African residents is deemed quiet by the residents, who say that they enjoy living there.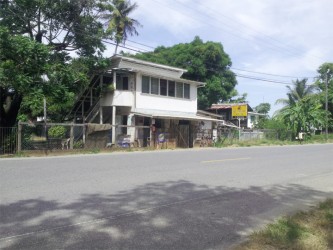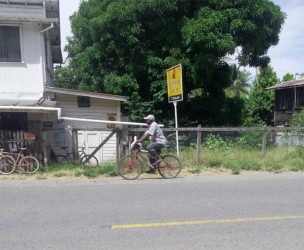 Around the Web