During a visit to Nigg, Corentyne in the scorching mid-afternoon sun, the village appears quiet and empty with hardly any activity, save for vehicles including a horse-cart with passengers, passing through.
Residents were probably indoors taking a rest or completing chores. Workers at a spray-paint shop were busy spraying vehicles but the owner was too shy to give a comment. Three other persons were relaxing in hammocks under a house while a horse grazed in the yard. One of the men got up when this newspaper approached.
He was very helpful but he too was shy and did not "want to be in the newspaper." Besides, he did not "know too much about the village."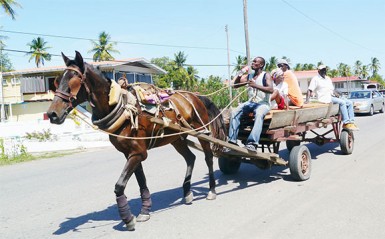 Many of the residents are employed at the Albion Estate and at other business places nearby. A garment factory, Chinese and liquor restaurants, a pharmacy, hotel, lumber yard, grocery and clothing stores and the post office have also provided employment in the village.
Residents seek health care at the Anamaya Memorial Hospital in nearby Hampshire Village as well as the Port Mourant and New Amsterdam hospitals.
David Ramdial, a road construction worker had returned home for lunch and was about to leave when this newspaper arrived. Moving from the bustling Rose Hall Town a few months ago, Ramdial finds the village peaceful and quiet. He was glad to "be away from all the busyness. It is better to live here with my family because the quietness is better; it makes you humble and wiser. When you're between lots of noise it confuses you."
Davitri Haniff, 58, who migrated after her husband died has been residing with her daughter in the US as well as with her sister in Canada. She was glad to be back in the village on holiday and spend time with her daughter and her family. At the time of this newspaper's visit she was keeping shop for her daughter. She sat in front of the shop as she awaited customers. She is one of the many persons who have migrated from the village. Some have abandoned their homes while others have left them in the care of relatives.
 Justice
Iris Karamchand, 65, is originally from East Canje where she lived with her late husband Karamchand Panchoo, until 1990. They then moved to Nigg at her parents' house that she inherited. Iris still grieved that her husband, a security guard, was murdered while working at a fowl farm at Don Robin and has not gotten justice.
A man was placed before the court but the magistrate discharged the case because of insufficient evidence. She wants the case reopened. Her husband worked as a guard at many places but had been at the fowl farm for eight years.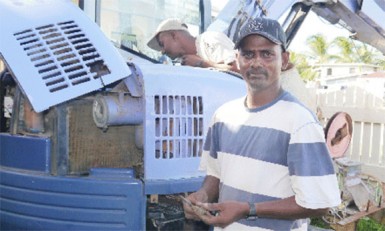 She recalled that her father was a labourer at the Albion sugar estate and her mother was a housewife. One of her sisters migrated to Canada and Iris went there for vacation.
Residents described the village as being "peaceful and quiet." They said there are no problems, except in the squatting area at times, where persons would consume alcohol and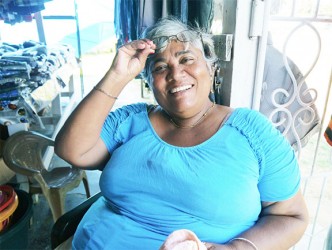 get into fights.
According to them, "The youth are idle and the devil finds work for the idle hands. Some people would prefer not to work at all than to work for a little money."
Along the public road was an old ramshackle house which had collapsed. It belongs to 65-year-old Virgina Birban who inherited it from her parents. She is unemployed and cannot afford to renovate it. The woman who suffered a stroke lives alone. She was never married. She pleaded with people, especially the owners of sawmills to "assist me with some boards and I would try to get people to help me repair it." It was sad to look around and see the house leaning, boards loose and twisted and items scattered all over because there was hardly any place to put them.
Birban, who was a bit self-conscious about having the picture of the house published, yearns for a better life.
 Stripping boards
In another section of the village, close to the squatting area, 20-year-old Tariq Albert was hard at work stripping boards with an electric saw. When this newspaper entered and was speaking to his mother and sister, he was unaware of it because of the noise from the saw. He stopped and smiled when he finally realized this reporter was trying to take his picture. He sells the pieces of boards he called "45 strips" to design homes.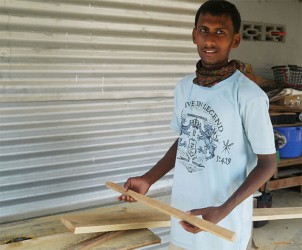 He also works with contractors as a carpenter and recently built the first house on his own for his older sister. He dropped out of school at the age of 14 and started learning the trade. His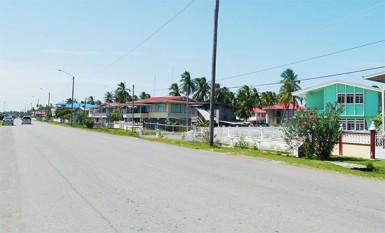 mother is no longer bothered that he quit school because he was not performing so well, and besides, he followed his heart's desire.
Tariq is never bored. When the building work is slow he is occupied with his little business and hopes to grow big in that one day.
 Accident
Across the street, Rajendra Samnarine, 38, was resting on a bed under the house enjoying the lovely sea breeze. That is where he spends most of his day, although not entirely by choice.
Samnarine, a painter, suffered injuries to his right foot in an accident and is unable to work. In 2011 he left to buy a lamp at a roadside shop and was on his bicycle when he was struck down by a motorcycle.
He was picked up in an unconscious state and rushed to the Port Mourant Hospital. He was immediately transferred to the New Amsterdam Hospital and then the Georgetown Public Hospital (GPH). He has undergone four surgeries so far and one more still has to be performed. Since the accident he has spent over $1M, including the cost for transportation as well as $38,400 for pills every month.
The motorcyclist faced six charges such as riding without a helmet, without a light and fleeing the scene of an accident. He was freed of the charges after the court ruled in his favour.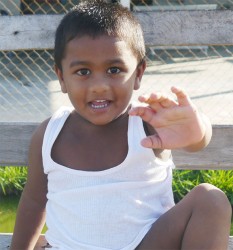 Samnarine's mother badly wanted justice and paid a lawyer to represent her son in court, alongside the prosecutor, but he failed to do so. "He just collected my money; he did not stand up for my son," she lamented.
 Handicapped
Across the street, 25-year-old Jenita Seyhodan was distressed that her two-year-old son, Nidesh 'Vishal' Persaud would never be normal. He developed a defect at birth and has become handicapped. His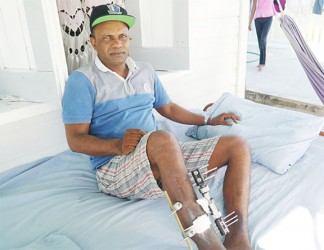 head has a long shape as a result of a "clamp" being used to pull him out at birth because she "did not have the energy to push…" The woman who was experiencing severe labour pain for two days said the health workers at the hospital did not see it fit to perform a caesarean-section.
A doctor later told her that the child suffered "brain damage" and the worse part for her is that it cannot be corrected. A single mother, she is unable to seek employment.
 Building contractor
Rajin Armogum, 42, a building contractor for the past 25 years was busy overlooking a mechanic as he serviced his excavator. Acquiring his skills from his father, Armogum has an established business with 14 workers and designs and constructs buildings around Berbice.
He has been living at his present location that was once a squatting area, since 1977. Several years ago the area was regularized and he received title for the land.
He observes that the village needs development in terms of proper garbage disposal and the rehabilitation of some streets.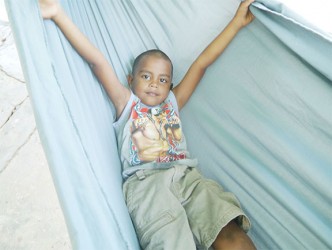 The father of four noted though, that sometimes "persons have to help themselves. If we see a hole and can't fix it then we can't have progress."
He has travelled to the United States of America with his family for vacation and although they had a great time, he said he cannot live there. "Living in the US is no easy life. This country is good," he said. "We just have to come together and work."
A woman, Ranganandan Thimmarayan was happy that this newspaper had visited because she wanted to highlight her problem in the media. Her husband is a pensioner but he is not benefiting from the pension plan the government has regarding the payment for water. The reason for that, she explained is because five years ago the company started sending notices that he owed $75,000 plus $124,000 interest. She insisted that they do not "use a lot of water. I don't even have a kitchen garden."
She queried the bill but they insisted that she has to pay. The woman said five persons visited to verify the meter. Four of them have admitted that the meter "malfunctioned and we don't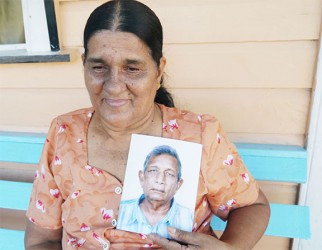 have to pay, but only one man said it's correct and they are listening to that one man."
Around the Web