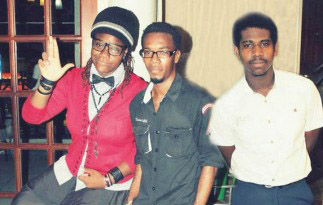 Collage is Guyana's newest band sensation, but don't let the word 'band' fool you. Collage is more than just music, the stage, voices and a guitar. From what The Scene understands this trio is the foundation of a music revolution, fighting with a passion and producing music like nothing Guyana has seen before.
The groundwork of the band began in October last year when friends: guitarist Christian Sobers and aspiring musician Lerone Souvenir introduced young Hip Hop Queen A-TayJah to a musical spank. Christian and Lerone were already doing several gigs at the Upscale Restaurant and A-TayJah was already a songbird for Hits and Jams, but when they united it sparked something which they realised could be even greater.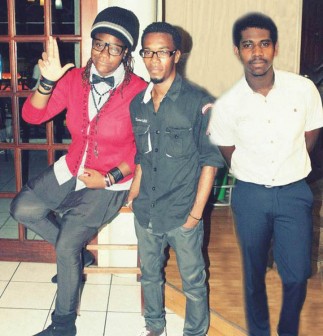 In just a few days the little meeting turned into their debut performance at the Upscale Restaurant. Since then, they have performed at church concerts, charity events, and were featured on NCN's Guyana Today.
A-TayJah, 20, was crowned Queen of Hip Hop by Hits and Jams Entertainment's Rap Off last year Easter 'Rozay' Monday after Rick Ross was a no-show. The Scene had spoken with A-TayJah before, when she was a solo artiste. She told us this time around: "For me, the passion to want to bring a different sound to Guyanese music is my drive. My family, friends, band mates, my love for music; just wanting to hear something different is all I need."
A-TayJah's inspiration comes from her band members Lerone and Christian. "Christian being the music constructor puts together our sound and his ideas just turn the light on in my head," she said. "Lerone listens to the solemn music, the ones you wouldn't normally hear: soft rock, jazz – they start to inspire me. They pull on my inspiration strings."
A-TayJah is a student at the University of Guyana majoring in Social Work.
Christian is a 19-year-old entrepreneur. He grew up in Georgetown in a close-knit, loving family who shares the same interest in almost everything including music. He said one thing that always surrounds his family life is church: it is the focal point and connection of their well-being.
His passion for music had ignited in church but he never really got involved until the age of 16. His father, Sean Sobers is a recording artiste and was doing music for as long as Christian can remember. With his father's spirit and his personal love, he logged onto YouTube and picked up a guitar that was lying in his house, untouched for years and began teaching himself to play the instrument. Christian said his father is the inspiration behind him because he taught him how to work in the music business. "He was the one who explained how to work in the industry. It is not always about the playing and the sound – the business aspect is the most important. You are not going to get far if you cannot take advantage of that."
He said music gives him personality. "Before I picked up the guitar I was practically no one. When I held the guitar then suddenly everything else made sense. It gave me life, it was my way of speaking without speaking and it was my opportunity to rule the air."
Christian's biggest aspiration is that he dares to affect things. "If I can change someone's mind set, make them believe… I think God inspires all that we do and we do not even notice it. From drawing a beat or a sound, something we write, what someone says, an issue that we have dealt with: These are the things that exist only because of Him."
His passion for music drove him to start his own music school named Music Unlimited. It is temporarily housed at the Saint Thomas Moore Primary School in D'Urban Street.
Lerone, 20, is known for the unique styling of his voice. Lerone grew up on the West Bank Demerara with his grandparents. Because his grandparents were pastors – church, church and church were all that surrounded his life.
He describes himself as boring and said his childhood was dull, but things got more interesting when he moved to the city at age 15 to live with his aunt, Radio and TV Personality Wanita Huburn. It was in Georgetown that he discovered certain things and expanded his knowledge in music. He said that to an extent it was church that was the foundation for his passion and love for music.
He graduated with ten CSEC subjects from the Business School and is currently studying Business Management at the University of Guyana.
Lerone said music is "a proper escape from reality"; it is his way of dealing with whatever challenges he faces. Lerone's musical inspiration comes from artiste like the late Amy Winehouse; Maverick Sabre, an Irish-English rapper and singer/songwriter and Paolo Nutini, a Scottish singer/songwriter. "Young people singing these kinds of old sounds are really inspirational," he said.
He said he had always wanted to be a musician. He got interested in broadcasting because of his aunt and started working with her as a producer on her Top 40 Music Countdown Show on 98.1 Hot FM.
The band's name, Collage, is self-explanatory as it is what they really do. The name was A-TayJah's idea to emphasise the fusion and passion of their three different talents into one. Christian provides the acoustic sound to their music, Lerone adds the contemporary, 'raspy' uniqueness with his vocals and A-TayJah, the hip-hop spice.
Band director Christian said that because of the acoustic music, it gives them (A-TayJah and Lerone) the chance to strip down the songs and that is what made Collage work. "It was something constant, something steady, something Collage," he said, adding that the band is not based on any particular genre of music; nor does it try to mimic the styles of others. "Our basic philosophy is to be ourselves. God has created each one of us as individuals and with talent. We look forward to at least causing a mental riot. That is the most dangerous thing about us – people see us and expect us to do something average and Caribbean whether it be Soca, Chutney or Reggae but we go above all of that, we go above the limit."
Collage's mission is to continue the revolutionary effect it can have on people. According to Christian, "We love having an effect on people. God has given us gifts and the ability so that we can use them and change things – that's where we stand, that's what we believe in, we use our music to do that."
A-TayJah gives her own interpretation saying the band is one that is able to create something, to give the listeners reasons and purpose, have them know that they are not alone, let them have something to relate to. It is all about connecting to people through music.
With A-TayJah's ability and lyrical marvel, Lerone's humility and crazy vocals and Christian in the middle with his acoustic beats, they express themselves in a way that Guyana has never experienced before.
The band usually performs mash ups of unpopular and popular songs, sometimes mixing the two. Their only original song so far is "Zero", which they performed at Upscale Restaurant's Poetry Night in collaboration with the Guyana Red Cross Society in the campaign to 'take things down to Zero'. The song focuses on the dream of zero discrimination against people living with HIV, zero transmissions, and for all to come together as one to fix the problems.
They see themselves making a strategic impact in pushing music in Guyana as an art form to new heights and new levels.
Asked if they found any competition in any of Guyana's other bands they said no. Applauding the revolution that has started in the music industry, they said:  "We see that there is more. There are more possibilities. We are breaking forth; we see that people are looking for a new sound. Collage, in itself, is a reformation of the Guyanese music industry. The industry was struggling… And now a lot of upcoming artistes are doing things themselves. That in itself is a revolution happening not from the outside in, but from the inside out. People are rising up and putting in more, they are no longer waiting on a company or agency; that is the reason we strive, we are taking our time to craft ourselves. We are still a work in progress, a raw product and we constantly criticise ourselves so that we can rise above the limit. You have to present yourself with a sense of humbleness. You give people the wrong impression and you lose the momentum if you go out with a fake personality or aggression that you cannot upkeep. A lot of local artistes should take this into consideration."
Collage is currently in the process of putting together an 'Extended Play', which is basically a pre-album, an introduction. They plan on putting their best songs out there on the radio and television. "We are spontaneous with our music, the impulse we get, the inspiration. Look forward for Collage, expect the unexpected and live the movement."
Around the Web