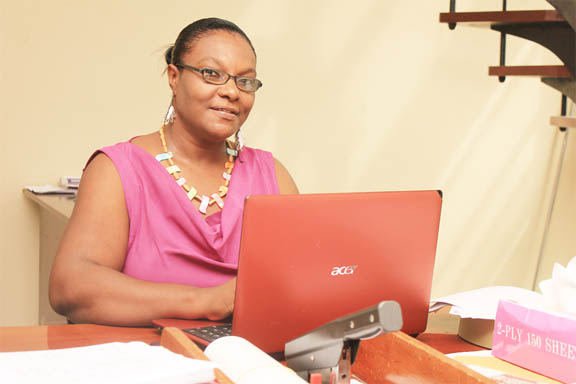 So driven is she to create, that there is never a waking moment when Collette Jones-Chin is not writing, telling stories, acting, drawing or painting. She is a dramatist, writer, producer, director, costume designer, set designer and an interior decorator.
Collette is also Director of Drama for the Ministry of Culture, Youth and Sport and Artistic Director of the National Cultural Centre. Her most recent contribution to the arts is putting together the National School of Drama and Theatre Arts that will be housed at the Cultural Centre from January 28.
Collette, who is Sagittarius-born, lost her mother to a vehicular accident, before she was quite two years old. She resided with her grandparents until the age of 14 in the small remote community of Riverview Housing Scheme in Mahaica, a predominantly Indian village. Collette believes that this grounding, along with her mixed heritage, has helped her understand Guyanese culture. After both her grandparents died, she moved to be with her dad in Georgetown, which caused a massive "culture shock". She recalled that everything was different; the buildings were numerous and bigger, people spoke differently, everyone and everything was busy.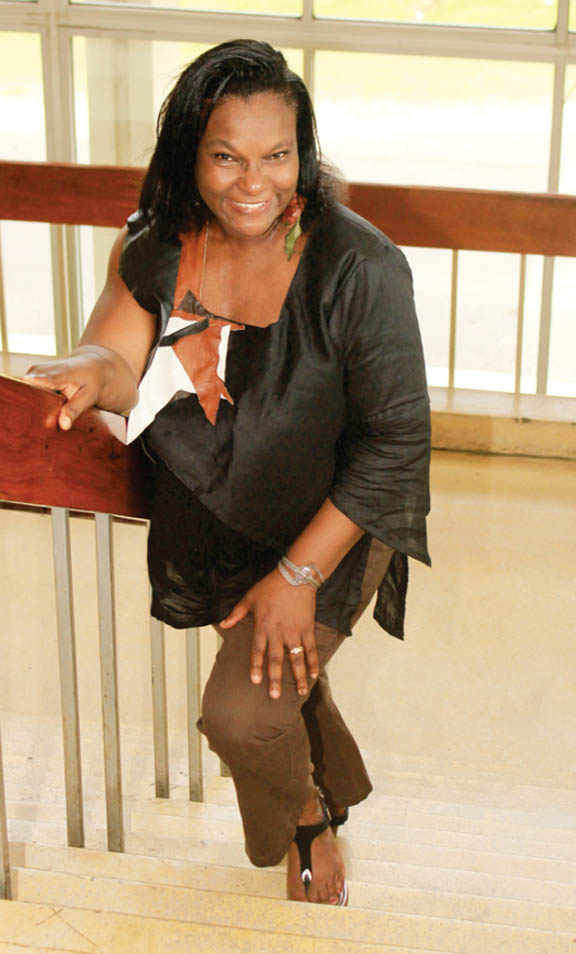 "All country people were dead poor but we never knew it, because we were all poor on the same level," she said of her humble beginnings. To her, poverty was unrecognisable until she came to the city. "When you knew you were poor is when you came to town."
Collette always knew she was born talented but it was the city that brought out her art. At the age of 16, she was encouraged by her school friend to join the Theatre Guild, her father warned her that if she chose arts she would be poor; he preferred her to be a lawyer.
Her father's advice falling on deaf ears, she forward and joined the Burrowes School of Art and the Theatre Guild and excelled in both areas. She studied Art Education and Painting at the University of Guyana and Painting and Graphics at the Burrowes School of Art.
She went on to study English and Art at the Mount Allison University in Canada. She was a youth volunteer in the arts and drama for the now defunct Canadian Cross Road International; during her time as a volunteer she worked tirelessly with the mentally challenged using art as therapy to teach.
As an advocate for the arts and education, Collette feels schools should encourage teachers to stop teaching the way they know how to, and teach the way children can learn.
Her talent has taken her all over the world; she won Best Costume Designer for four consecutive years in Anguilla, the National Visual Arts Award in St Vincent and was a participant in the Olympic Sport Arts Competition in France last year.
But nothing inspires her more than teaching. She taught Art at President's College; English Language and Literature at Queen's College; and Drama, Art and English at Mae's Secondary. She left the country in 1997 for St Vincent and the Grenadines where she taught Art and Drama. She also worked as a consultant to that island's Ministry of Culture and was president of the National Arts Foundation, where she developed the curriculum in Arts and Drama.
The Organisation of American States (OAS) and the Organisation of Eastern Caribbean States (OECS) had both contracted her to go around the Caribbean teaching young, aspiring dramatists to become entrepreneurs in the arts.
"As a teacher I do not teach people to become artists, I teach using the visual arts as the vehicle – I want to teach the student to become creative. Not everyone was born with the gift of being an artist, but everyone was born with the gift of creating," she said.
Back home, she designed the Mashramani costumes for the Ministry of Education which won the Best Small Band Design in 2011. She won the 2012 National Drama Festival award for Best Set Designer for the play Life and she wrote the Best Original Guyanese play, Virtues.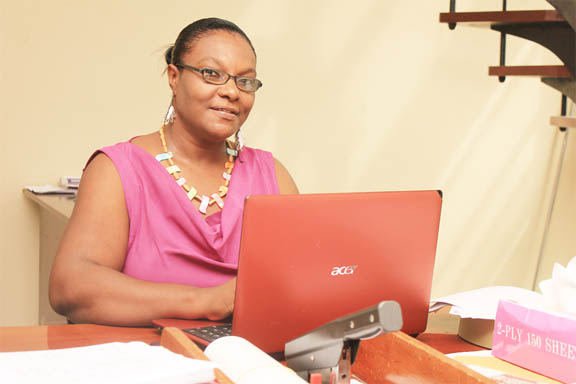 Although it seems like her life is very busy, Collette intends to do more. "I came [home] with the intention of opening my own school of arts but that has not been able to become a reality because of many issues…"
In the meantime she will focus on the development of young minds. Her aim is to see how many youth she can influence to use the arts; see what changes she can make for the benefit of this country with regard to culture and the arts. "I want to initiate ideas and hope that they are bought. I plan to have an exchange programme providing actors and theatre personnel from Guyana to go to other Caribbean countries to perform and have those people come over here and share their ideas. I want to basically open an international stage to drama and arts."
She passionately believes that if "our thinkers can put the arts on the top of the education ladder, there would be less garbage and more aesthetics, less aggression and more love. I also believe that the damage has already been done to the older generation, so our focus should be on the younger ones. What you leave behind is not what is engraved in stone monuments, but what is woven into the lives of others.
"Irony is a hidden factor that creeps around us in life, [making] its presence felt only after it has left."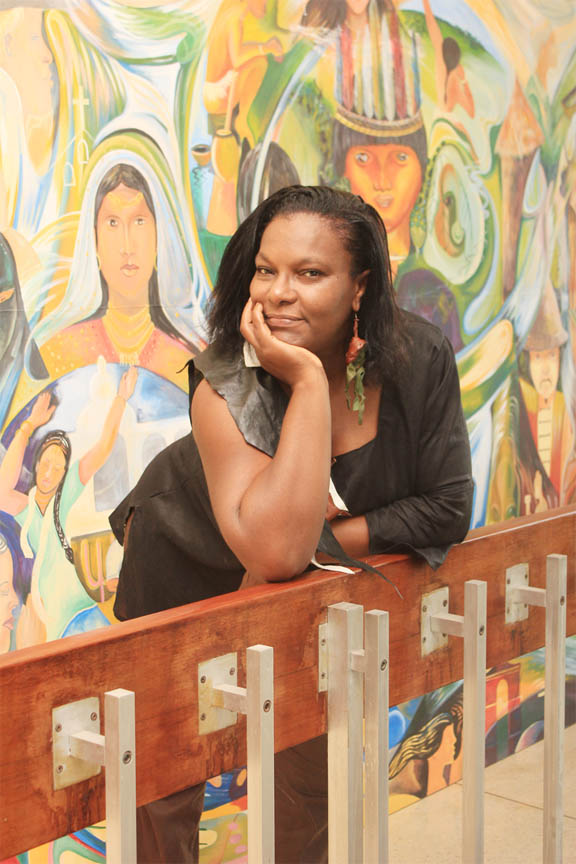 Firm in her belief that it is "the quality of our work which will please God and not the quantity", she says that she is inspired by life. Everyday life presents a script for her to follow. Just speaking to a friend or watching something can inspire an entire play. Her drive comes from within, her passion for life and for change is perhaps her biggest motivation yet. If she wasn't an artist or creative person, she would've been a scientist because of her love to see the evolution of things; she is continuously working on positive change.
Every minute of every day, she applies the arts to her life. It is her love, her focus, her dream, her reality. "I never could have separated arts from drama. Artist use canvas just as how dramatists use the stage as… a medium of expression. I am an advocate of the arts, I believe that if a person is to be totally rounded you will have to have a bit of knowledge of all or a few aspects of the arts. People can become anything with art applied. I realised people who have studied the arts have an edge over anyone in life. They are loveable and charismatic, it brings out all those positive qualities in you; brings out the colour, sense and space when everything in life is viewed differently. It makes you more confident, someone who… can identify your purpose or your vocation earlier in life and roll with it for the benefit of yourself and humanity. I am very happy that the arts chose me, I didn't choose the arts and I have been given the opportunity to really shine at it."
Collette is happily married to Cecil Chin for the past 15 years. He is the President of the Guyana Basketball Officials Council and was one of Guyana's top basketball players. She has an 11-year-old daughter, whom she describes as a "budding, creative spirit".
Collette has several irons in the fire at present; she is working on a book, several plays and an exhibition and the launch of her new work.
Around the Web